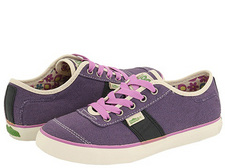 In the perfect gray-day little thank-me, I just got an order from Zappos, the great shoe gods. This box is making me especially momentarily happy because they contain little sneakers from the eco company Simple that are are a) purple b) have purple laces c) have happy floral lining c) are made of hemp, organic cotton, non-toxic glues, and recycled tires. You could almost eat them they're so earth-kind–especially compared to other sneakers (which you, er, would not want to eat). The company's tagline is "Shoes for a happy planet." They might also add, "…and a happy stressed-out city girl."
You can check out those and other Simple shoes (which are also super-comfortable) here.
Do cute shoes make you happy too? I swear they're like therapy in a box.