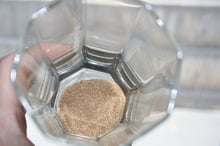 In my two years of seeing an acupuncturist, I've mainly focused on the needle work; I've only rarely taken herbs, and when I did, I got these little pellets that were as easy to take as a pill.
Recently, though, I've been having chronic inner ear/Eustachian tube issues, and my acupuncturist convinced me to try a course of herbs to treat it.
The problem is that these herbs come in the form of the brownest, dustiest, most pungent powder you could ever imagine. So how the heck am I supposed to take them?
My acupuncturist told me to suspend them in a flavorful juice. I tried tomato juice, but something about the flavor of the juice was too close to the weird savory-ness of the herbs. So next I tried orange juice, and that's what I've been using, semi-successfully, twice a day.
My ritual has been to mix my gram-spoonfuls of the herbs with just enough orange juice to make a brown, viscous shot. I take a deep breath with the glass away from my nose–filling my nostrils with clean, non-herby air. Then, with eyes closed and without breathing out, I take the mixture in one gulp. I then immediately rinse the glass thoroughly so there's no scented evidence of the procedure left lingering in my kitchen. As a chaser, I eat a small piece of cooling watermelon.
It's not pretty, but it works. I wonder, though, if there's a more palatable way to take Chinese herbs? So far, I've heard a couple of suggestions:
— Valerie suggested that I suspend the herbs in a super-sweet liquid like a nectar.
— My yoga teacher Liz Owen suggested that I buy capsule casings and spoon the herbs into those so I can take them like pills.
I bet that many of you have your own secrets of surviving Chinese herb-taking. So please (please!) won't you share?