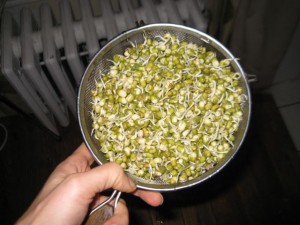 I'm a sprout farmer! What started out as a handful of mung beans are now nice, crunchy, protein- and enzyme-rich sprouts. Very exciting. And you can do it too if you haven't before. Here are easy-peasy basic instructions for mungs and a few links in case you want to get fancier.
1) Get a Mason jar (the bigger one) and fill it about a quarter full of washed and sorted mung beans.
2) Cover completely with sprong, distilled, or filtered water. Cover with cheese cloth and a rubberband. Soak for 6-12 hours.
3) Rinse the soaked beans well in a strainer. Put beans back in the jar. Re-cover with cheese cloth and rubberband. Set the jar at a 45-degree angle if you can, or if you don't have something you can prop it with, simply set it on its side. Cover with a dishtowel to keep it from sunlight (or move into my apartment where there is none).
4) Rinse the beans once a day through the cheese cloth. Be sure to completely pour the water out before setting it back in its angled or side resting place.
5) Do this for about three days, until the sprout tails are about 1/4-inch long.
6) Eat! Put on salads or blend into smoothies for an extra enzyme kick. Congrats, you are a sprout farmer.
Next, I'm onto lentils. A friend tells me the green ones work better than brown. And of course you can sprout so many different things–raw peanuts, sunflower seeds, dried whole peas, and more.
Here' s some more in-depth sprouting instructions and information.
Do you sprout? Any tips?
[Image via: Me]