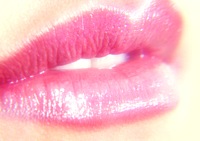 It's spring, so send those winter red lips packing with these lip treats.You won't find any parabens, petro-chemicals, phtalates, sulfates, synthetic anything on these ingredient lists. So pucker up, love is in the air.
Tarte's 24.7 Lip Sheer: Whether you want an I-just-ate-an-organic-strawberry stain or a sixties pink pout (all with SPF 15), try the Be Good to Your Mother (Earth) set .

Cargo PlantLove Botanical Lipstick: This lipstick infused with moisturizing meadowfoam seed oil, jojoba and shea butter comes in a compostable lipstick case made of carbon-neutral corn. Plant the wild-flower seeded box and watch your garden grow.
Bare Escentuals 100% Natural Lipgloss: Bare Escentuals glimmery gloss contains the brand's signature mineral ingredients, which means superior colors, antioxidants and no nonsense.
NVEY ECO Organic Lip Lustre: With certified organic ingredients including beeswax and coconut oil, this lip color is a natural solution — subtle shine and never tacky.
Any favorite lip potions you'd like to share?