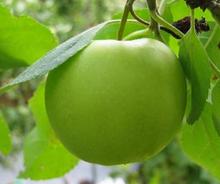 So, I just ordered a countertop for the kitchen we're renovating in our new house. It's engineered quartz, non-porous, very low VOC-emitting, smooth, and gorgeous.
And it's apple green. Like, seriously apple green.
The kitchen will be blue, green, and white, with the green counter, blue accents in the backsplash and on the walls, and fresh white cabinets. It's bold, I tell you, bold!
And why not? My friend Dilshad had the perfect response when I worried aloud that the colors were too "out there." She said simply, "Go bold or go home."
Her words left me inspired anew to hold fast to my vision for a light-drenched, happy kitchen that's alive, healthful, and ready to host me for years of nourishment as the center point of our home.
And to me, "alive and healthful" means color. Real color, not different shades of beige. Colors that make me happy and that stand out against the clean backdrop of white. Go bold or go home, indeed. Actually, I'll take it further–go bold at home. Restful neutrals are for bedrooms (maybe…), but a kitchen should have some splash.
So ends my sermon – as you can see I'm a little bit excited about the move and the possibilities of a fresh new look to our lives.
Thoughts? Please dish with me – how do you use color in your home design decisions?
Oh, and check out this post I wrote back in March about how to choose an uplifting paint color using the color wheel.
(image via: http://www.persianmirror.com/Article_det.cfm?id=847&getArticleCategory=55&getArticleSubCategory=23)