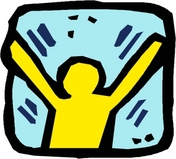 Don't you love random "holidays?" Things like "Happy Hump Day" or "It's my half-birthday" are really just excuses to declare to the world, "I want to feel good today!" But they do the trick, and I think we need more of them. Starting with "Feel Better Day," that day when you realize after a cold or a migraine or a stomach bug or a depression that your energy is coming back, your life force hasn't abandoned you, you're ready to re-emerge from the sick bed and walk the land of the living.
It's been a rough winter for us here at Fresh Living. Valerie and I
have both had multiple bouts of sinus, bronchial, tonsil, and other
respiratory problems. Each symphony of tissues, soup, salt water gargling,
and antibiotics, seemed to last forever. Today, as the sun is shining, the windows are open, and both of
us are starting to emerge from our latest (and hopefully last)
episodes, feels like a perfect "Feel Better Day."
So, here, in acrostic form (Why not? It's a holiday!) are ways to celebrate "FBD," projecting into the world the relief, joy, and energy that you feel when you finally feel better.
F – Freshen your surroundings; wash blankets, bedding, surfaces until they're clear and clean.
E – Exercise your body and feel your heart pumping strong and steady.
E – Eat a seasonal, healthy meal as reward to your body for getting better.
L – Light a candle (soy or beeswax, please!) and meditate on your reunion with health.
B – Breathe deeply and rejoice at the vibration of a clear, full, healthy breath.
E – Experience fortifying, soothing essential oils like rose, lavender, and linden flower.
T – Thank those who brought you soup, sent kind emails, or just listened to you whine.
T – Turn on the radio and sing out loud, celebrating the power of your voice.
E – Engage your life; reconnect with your friends, clear your email in-box, declare, "I'm back!"
R – Ritualize the moment–say a prayer or mantra, toss the tissues, or create your own.
(image via: http://www.richmond.ca/__shared/assets/Celebrate_Icon12768.jpg)
Any Feel Better Day celebratory tips to add? What do you do when you feel better?