Capernaum (pronounced "kuh PUHR nay uhm") in Galilee was the headquarters of Jesus' ministry and the home of his disciple, Simon Peter. In that time, it was a bustling city of about 6,000 people (both Jews and Gentiles) and was situated on a major trade route that connected Damascus and Alexandria. Located beside the Sea of Galilee, fishing was a prominent trade there.
Historians tell us that Jesus most likely lived with Peter when in Capernaum. In fact, Archaeologists think they've found remains of both Peter's ancient home and the synagogue where Jesus taught in Capernaum. The house lies about 80-plus feet away from the synagogue, and was discovered under the ruins of a fourth-century church. Today, the location is marked by a modern Franciscan church in what's known as Capernaum National Park.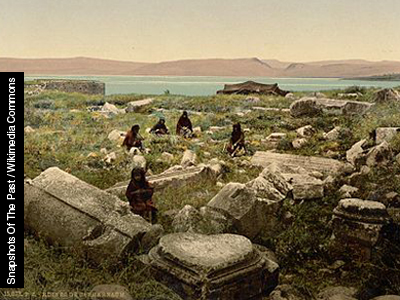 [TEF, 49; JHT, 228, 229, 232; ANT, 162, 164; FOD, 393]
ΩΩΩ
Copyright © 2014 to present by Nappaland Communications Inc. All Rights Reserved.