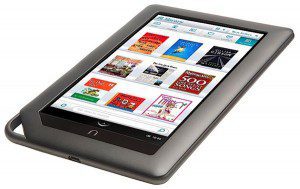 PW and Publishers Marketplace are both reporting that print book sales were down by about 9% in 2011, with the heaviest hits being in paperback fiction (-17.7%) and mass market paperbacks (23.4%). In almost every category, print sales were down in 2011 by about double the percentage they were down in 2010. Today's Daily Lunch says:
With a particularly light week after Christmas (perhaps because of those post-holiday ebook downloads), unit sales of print books as measured by Nielsen Bookscan declined 9.25 percent for 2011. At 651 million units, the total was 66.3 million units lower than the total for 2010. (Remember our point from earlier in the week: BookStats counted trade ebook sales in 2011 of 76 million units. If that number doubled or more in 2011, the ebook gain could meet or exceed the decline in print units measured by Nielsen Bookscan.)
As you can see from that last line, it's not all a tale of declension and woe. Ebooks are exploding. 2012 may see parity in sales of print and ebooks for the first time. And even in the realm of print books, Barnes & Noble reported a 4% holiday increase over last year, the first growth in five years.