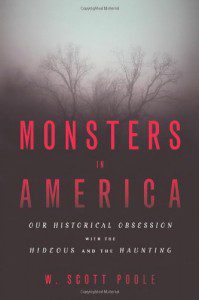 I'm not much of a horror film aficionado, but of course I enjoy some of the darker sci fi, like the feminist fairy tale that was Buffy the Vampire Slayer. So I was intrigued to pick up the new book Monsters in America: Our Historical Obsession with the Hideous and the Haunting by W. Scott Poole.
This study is one of the great examples of the successful "scholarly trade" book — on the one hand, it's a fluid read, it tackles an engaging subject, and it's accessible to a broad audience; on the other hand, it draws upon serious scholarship in serious ways. Casting a wide net, Poole traces the history of monsters in America (as he puts it, he takes us "on a wild ride through the darkness of the American past, galloping hard and fast like Ichabod Crane . . . in hopes we can reach the bridge in time").
Did you know that folks during the Enlightenment were fixated on the mastodon? That post-WWII monster movies reveal as much about our cultural anxieties about burgeoning female sexuality as they do about our terror of atomic technology?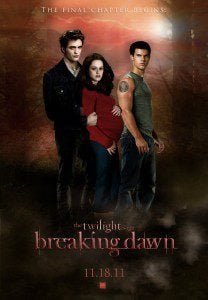 The story of monsters, Poole rightly observes, is actually the "underground history of the United States . . . . American monsters are born out of American history." Monsters reveal what simultaneously enthralls and repels us, whether it's leviathanesque sea monsters off the shores of 17th-century New England or Stephenie Meyer's puritanical, defanged Edward Cullen addressing contemporary America's split-personality longing for a supersexy Ozzie-and-Harriet family.
I greatly enjoyed this book and would love to assign it to my undergraduate students the next time I teach a course on religion and popular culture in American history. From Salem to Psycho, Moby Dick to Sookie Stackhouse, Poole's engaging analysis goes a long way to explaining why we hate monsters but just can't quit them.