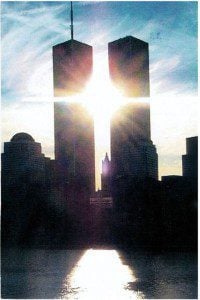 This afternoon I dug into my computer files and found this old sermon that I gave on September 16, 2001, the Sunday after the World Trade Center and Pentagon were attacked. It was surreal to read it again a decade later. Some elements of that week I had forgotten entirely–I had no memory of the hitchhiker, for example–while others are still painfully fresh.
The worst is the pain of knowing that when I wrote that "all those closest to me are safe," I was wrong. I learned that December in Columbia's alumni magazine that one of my own former students had been working in the WTC and had perished that day. Learning that horrid news was like being punched in the stomach. All that potential, lost. That beautiful and smart young woman gone forever.
When I found out, I was in the process of packing for a 10th anniversary cruise that my husband and I were taking the next day. Brooke was dead, and I was leaving on a cruise: the incongruity seemed an impassable breach.
I'm not doing anything special to mark tomorrow's anniversary. I certainly won't be watching the news. I'm not even going to church because of a prior family commitment. In a way, though, that is as it should be. The living go on living. We honor the dead, but we go on living. I think I was wrong in 2011 when I said that life would never be the same. It felt that way at the time, but that was a dramatic response to unprecedented circumstances.
Life goes on. There is much to be thankful for. –JKR
September 11, 2001: Eating from the Tree of the Knowledge of Good and Evil
Jana Riess
Winchester, KY Ward
September 16, 2001 Sacrament Meeting
Tuesday began just like any other weekday.  I negotiated with my daughter about which socks she would wear, what kind of sandwich to put in her lunch.  I debated whether to take a few moments in the morning to put a soup in the crock pot, or just to make a simple dinner of sandwiches in the evening.  I worried about whether I'd be able to finish the project I was editing before the UPS man came in the afternoon to pick up my outgoing packages.
Shortly after 9 a.m., my husband called with the news that the World Trade Center had been hit by an airplane.  While we were on the phone, he heard on the radio that it had been hit by another plane, and that on NPR they were saying that this meant it was probably not just a terrible accident, but a terrorist attack.  I hastily emailed the column I had been working on to the magazine I write for, which is based in New York.  At the top I attached a note to the other editors: I just heard what is going on, and I want you to know that I am praying for you all.  And then I went to turn on CNN.
Throughout that day and the next, I watched with horror as the events unfolded.  It seemed as though I were either having a nightmare or watching an action film – however, I never woke up, and Arnold Schwarzenegger never showed up to save the day.  I spent the day on the phone – since the company I work for is located in Manhattan, and I also did my doctoral program in Manhattan, many of my friends and colleagues live there.  I was also concerned about friends and family members who work for the federal government in Washington, D.C.
As chance would have it, all of those closest to me are safe, though there seems to be only one degree of separation between myself and some of the victims.   A friend's former student, fresh out of college and working in finance at the Trade Center, is among the confirmed dead.  Two men who work for our company were killed on one of the hijacked jets that crashed into the WTC.  I felt nauseous when I heard this news, though these were not people I knew personally.  On Friday evening I was finally able to get news of a college friend, who had not returned my anxious email and could not be reached by phone since the lines were down.  She and her husband had been on a plane headed for Florida when the attacks happened.  Their plane sat on the tarmac at JFK while the passengers learned about the attacks.  Imagine sitting on a plane as you learn that several planes full of people just like you had been commandeered and used as missiles to kill thousands of other people just like you.  You are safe, for now.
We are safe, for now.  But we are not the same.  All week long I have engaged in conversations with people who feel, like I do, that they have eaten of the tree of the knowledge of good and evil.  There will be no going back to a simple Tuesday morning where my greatest worries are the contents of Jerusha's lunchbox, or when to find ten minutes to squeeze a shower into an overscheduled day.  Like Adam and Eve after they partook of the forbidden fruit, I have been changed because I have seen what evil is, what it can accomplish.
But I have also seen goodness in its most urgent, its most heroic state.  I have seen our nation band together as never before in my lifetime.  I have even seen this goodness in myself, this desperate need to DO something, to HELP somehow.  The tragedy has pushed me out of my comfort zone to engage the world in new ways.  On Tuesday evening I drove downtown to donate blood, something I haven't done since I passed out cold after I donated in college and whacked my head.  On Wednesday I – and this shocks me utterly – actually picked up a hitchhiker on Colby Road on my way into Winchester.  I've never picked up a hitchhiker in my entire life, but there was something inevitable about it that day.  Somehow I knew that if this wheezy woman, who said she needed to go to Wal-Mart to get medication for her emphysema, were to harm me in any way, it would not be the worst thing that could happen.  I had already seen the worst the day before.  Everything else simply paled in comparison.
I've changed in more than just superficial ways.  Yes, I've gone from being someone who could spend at least two weeks without going near a television to someone who is glued to the set.  But more importantly, I've lost some of my confidence, my naivete, my trust in humanity.  And I've gained a greater testimony of the agency that our Heavenly Father considered to be so important that he entrusted us with more freedoms than we know what to do with.  This week I have heard a few people ask why God allowed such a thing to happen, why God didn't stop it from occurring.  As Latter-day Saints we know that Heavenly Father grieves with us in ways that we could not begin to fathom – that He suffers when we suffer, just as parents mourn when tragedy befalls their children.  He grieves all the more because all of this suffering is the direct result of human agency, not because of divine action or inaction.  We humans caused this pain.  It is our responsibility, not His, though he weeps with us.
In these times it is more important than ever that we stay close to our Heavenly Father, to lay our grief and pain at his altar and recognize our sins.  All week I have been thinking of the best ways to pray in such circumstances – and I am quite simply at a loss for words.  As an editor and writer, words are both my life and my livelihood.  I spend hours choosing some, discarding others.  And yet words have failed me utterly as I think of the terrible pain that so many people are now experiencing as they contemplate the enormity of their losses.  Although I am unable to find the words, I know that Heavenly Father hears the prayers of my heart.  In Romans Paul tells us that "the Spirit . . . helpeth our infirmities; for we know not what we should pray for as we ought: but the Spirit itself maketh intercession for us with groanings which cannot be uttered."[1]  I find this to be one of the most comforting, hopeful passages of Scripture.  When we are in the mire, when we are so choked up that we cannot express the pain or confusion or grief we are experiencing, we can take refuge in the fact that God sends the Holy Ghost to intercede for us.  The Spirit does so with groans that are so deep as to be unutterable.  So even when we fall to our knees and say nothing at all, absolutely nothing at all, Heavenly Father knows.  He knows.
And in these wordless times we can also know that our actions, when consecrated with sacred intent, can become a form of prayer.  When we stand together, when we give blood to save others, we are in fact praying.  When we feel the depths of compassion for the victims' families we see sobbing on television, we are in fact praying.  When we lower our flags to half-mast and wonder if the devastations of this age will ever draw to a close, we are in fact praying.  And as we learn in Mosiah, when we are in the service of our fellow human beings, we are always in the service of our God.[2]  Our service is a form of prayer.
And one day, the words will return.  We will be able, with God's grace, to pray as we ought, praising Heavenly Father for the goodness of creation, and knowing that, as Nephi puts it, there must be an opposition in all things.[3]  We will actually be grateful for the existence of evil, for its presence makes our decision to choose what is good even more of a marvel.  And we will be reminded of God's truth, as we have it once again from Romans, that there is nothing, absolutely nothing, that can separate us from the love of God in Christ:
"Who shall separate us from the love of Christ?  Shall tribulation, or distress, or persecution, or famine, or nakedness, or peril, or sword?
As it is written, 'For thy sake we are killed all the day long; we are accounted as sheep for the slaughter.'
Nay, in all these things we are more than conquerors through him that loved us.
For I am persuaded, that neither death, nor life, nor angels, nor principalities, nor powers, nor things present, nor things to come,
Nor height, nor depth, nor any other creature, shall be able to separate us from the love of God, which is in Christ Jesus our Lord."[4]
In the name of Jesus Christ.  Amen.
---