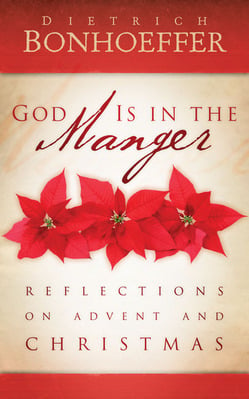 Merry Christmas! Our devotions from Dietrich Bonhoeffer's God Is in the Manger: Reflections on Advent and Christmas have passed through the waiting and mystery of Advent to the joy of Christmas.
Much of that joy, at least for me, comes in being with family and friends at Christmas. But for Bonhoeffer in the last few years of his life, all of these simple holiday pleasures were stripped away because of the war and his own imprisonment for defying the Nazis. Gone were the carols he loved to sing with his highly musical family. Gone were the presents, the visits, the special foods and traditions. Yet despite all this — or even because of it — his celebration was rich indeed.
On December 17, 1943, Bonhoeffer wrote to his parents from prison:
From the Christian point of view there is no special problem about Christmas in a prison cell. For many people in this building it will probably be a more sincere and genuine occasion than in places where nothing but the name is kept. The misery, suffering, poverty, loneliness, helplessness, and guilt mean something quite different in the eyes of God from what they mean in the judgment of man, that God will approach where men turn away, that Christ was born in a stable because there was no room for him in the inn–these are things that a prisoner can understand better than other people; for him they really are glad tidings.