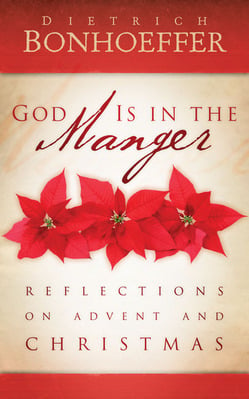 I recently had the pleasure of editing a devotional of Dietrich Bonhoeffer's writings for Advent and Christmas. Culling together Bonhoeffer's Christmas sermons, letters, and other writings for God Is in the Manger: Reflections on Advent and Christmas helped me to see this larger-than-life theologian in a new light.
Now I am using the book in my not-quite-daily Advent devotions to help me prepare for the Christmas season. Each Tuesday through early January, I'll be posting a short excerpt from the book in the hope that it enables you to have a more spiritual and fulfilling holiday season.
The theme of Week 1 is "Waiting," which is fitting for the first week of Advent. On December 1, 1943, Bonhoeffer wrote from prison to his young fiancee (quite the May-December scandal there, which I never realized — but that's another kind of waiting). Unable to prepare for Christmas in the ways he always had when he was free, he wrote:
I think we're going to have an exceptionally good Christmas. The very fact that outward circumstance precludes our making provision for it will show whether we can be content with what is truly essential. I used to be very fond of thinking up and buying presents, but now that we have nothing to give, the gift God gave us in the birth of Christ will seem all the more glorious … The poorer our quarters, the more clearly we perceive that our hearts should be Christ's home on earth.
That certainly puts things in perspective, doesn't it? "I think we're going to have an exceptionally good Christmas." In spite of his own unjust imprisonment, the losses of good friends to war, separation from those he loved, and dealing with evil all around him, Bonhoeffer believed it would not just be an endurable Christmas, but an exceptional one.