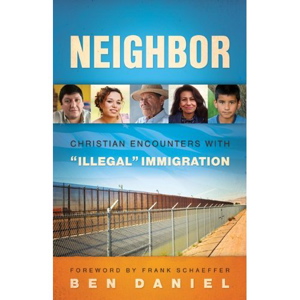 The new Arizona immigration law is set to go into effect next week (July 29), and folks on both sides of the issue are busy marshaling their forces to either protest or implement it. Earlier this week, Arizona governor Jan Brewer announced that she's directing $10 million in federal stimulus money to border cities and counties to crack down even further on illegal immigration. Meanwhile, seven lawsuits have already been filed to throw out the measure, which gives police broad latitude in demanding immigration papers from anyone suspected of a crime.
At this point the only people happy about the situation are the attorneys who are clocking massive billable hours. But there are some sane voices in the immigration debate, including Rev. Ben Daniel, a Presbyterian minister in San Jose whose book Neighbor: Christian Encounters with "Illegal" Immigration will be profiled on Flunking Sainthood when it releases next month. I was the editor for the book, and am proud to say it's a fine piece of work. It's balanced and focused not on policies but on people, the people whose lives hang in the balance until our nation figures out what to do about immigration.
Ben's wise, even-handed voice can be seen in a new piece he's written for the Huffington Post, in which he explores the concept of border walls in both Israel and the U.S. Do they really work? And more importantly, do they contribute to a spiritually healthy nation? He writes:
"…are walls worthy of the faith we put in them? Will they bring us peace?
Do they make a positive contribution to common good? Do they in fact
make us better neighbors?"
Good questions to ponder next week as the law goes into effect.