FeilerFaster takes you where few other blogs, or at least few other blogs on Beliefnet, dare to go. Earlier this year, it was backstage at the Super Bowl. Now, the World Series!
On Sunday night, following an all-night blow-out for my sister-in-law's wedding, I went to an even bigger all-night blow-out, Game 7 of the ALCS. My father-in-law, father, brother-in-law and I screamed through the last remaining voices we had as we took advantage of awesome seats in the private club behind home base and watched the Boston Red Sox defeat first their fans, who spent most of the game convinced they would lose, then the Cleveland Indians. By the end, everyone was cheering except the police, who put the city on tigther lockdown than Baghdad, hoping to avoid recent rioting after Red Sox victories. The most impressive achievement of the night was my brother-in-law Dan, who knew the names of all the retired numbers in Fenway Park, including Jackie Robinson, in blue, while all the rest were in red.

The other interesting tidbit I was reminded of is that star first baseman Kevin Youkilis (he hit .500 in the ALCS and got more hits last night in Game One of the WS), just one of many Red Sox with unusual facial hair, is Jewish.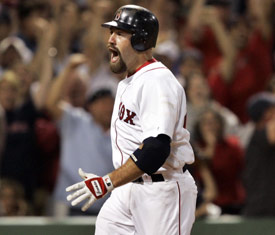 He apparently asked one of the limited partners I know whether he should play in Yom Kippur this year and opted to suit up but not play, a decision, as you might imagine, that suited few. The Internet being the Internet, I found the controversial
clip
from a few years ago (before the facial hair) when Denis Leary pitted Youkilis against Mel Gibson. I also stumbled on some
comments
he made on the topic back in his minor league days.
Growing up in Ohio in the 80s and 90s, the 24-year-old Youkilis did not have any Jewish baseball stars to admire.
"There weren't that many," he says.
Heroes of the past such as Greenberg and Koufax were just that, not relevant to a kid looking for inspiration from current stars. Today, however, Jewish players, some current and former MLB All-Stars, pepper the baseball landscape. Los Angeles Dodgers outfielder Shawn Green is one of the more promising power-hitters in the game, while Brad Ausmus and Mike Lieberthal have established themselves as franchise catchers for the Houston Astros and Philadelphia Phillies, respectively. Atlanta Braves pitcher Jason Marquis, Anaheim Angels lefthander Scott Schoeneweis, and outfielder and recent Red Sox acquisition Gabe Kapler round out a solid core of up-and-coming Jewish major leaguers.
Although he does not shrug off his association with these other Jewish baseball players, Youkilis downplays the influence that faith has on his game.
"I don't really bring it into baseball," he says.
However, he does credit his faith with making him a disciplined person, which not only helps shape his character, but also his approach to the game. Though raised Jewish, Youkilis' parents did not push the faith upon him past his bar mitzvah and Hebrew school, and allowed him to choose his own level of involvement.
These days, most of the Youkilis family, including Kevin, attend synagogue only on the high holidays, and they do not keep kosher. "We keep the faith," he says, adding, "we believe in what we believe."
When asked how his faith plays into the clubhouse dynamic, he says that "everyone knows" that he's Jewish. But it doesn't seem to be a big deal. Although Youkilis is unique among his teammates, he is able to joke about it with them. In fact, Youkilis says that he hasn't experienced any form of anti-Semitism among his teammates since his high school days. He recalls anecdotes from his minor league seasons, one of which involves a bright orange t-shirt bequeathed to him by his Portland teammates that reads, JESUS IS MY HOMEBOY.
Though the list of Jewish ballplayers is not large, it includes a member of the Rockies, and this week the NYT talked about the challenges Jason Hirsch has faced on a team with evangelical inclinations.
Hirsh said not once during the season had he felt uncomfortable with the place Christianity occupies within the organization.
"There are guys who are religious, sure, but they don't impress it upon anybody," Hirsh said. "It's not like they hung a cross in my locker or anything. They've accepted me for who I am and what I believe in."
The role of religion within the Rockies' organization first entered the public sphere in May 2006, when an article published in USA Today described the organization as adhering to a "Christian-based code of conduct" and the clubhouse as a place where Bibles were read and men's magazines, like Maxim or Playboy, were banned.
The article included interviews with several players and front office members, but team players and officials interviewed this week said it unfairly implied that the Rockies were intent on constructing a roster consisting in large part of players with a strong Christian faith. Asked how his own Christian faith affected his decision-making, General Manager Dan O'Dowd acknowledged it came into play, but not in a religious way. He said it guided him to find players with integrity and strong moral values, regardless of their religious preference.
"Do we like players with character? There is absolutely no doubt about that," O'Dowd said during a recent interview in his Coors Field office. "If people want to interpret character as a religious-based issue because it appears many times in the Bible, that's their decision. I believe that character is an innate part of developing an organization, and to me, it is nothing more than doing the right thing at the right time when nobody's looking. Nothing more complicated than that.
"You don't have to be a Christian to make that decision."
I haven't heard Jason Hirsch be interviewed, but I'm afraid I did hear Youkilis after the Game 7 victory on Sunday night. Not exactly a poet. I can't say I was surprised when, on hearing that he was quoted in Michael Lewis's book Moneyball, about the Oakland A's, where he was called the "Greek God of Walks," Youkilis said he hadn't read it. "I'm not exactly a big book kind of guy."
What's fascinating, though, is that once again, the biggest book of all has become a backdrop to American sport. At the Super Bowl, it was Tony Dungy who stirred passion and controversy by bringing his Christian philosophy to the fore. This year it's the Rockies. Fair enough. At least Hirsch and Youkilis remind that there are limits when owners, GM's, and managers put their own faith front and center. They just might need an occasional helping hand from the God of Walks.