The 4am bus was late, but I got on at about 5 and sat at the last seat remaining in the very front. There was another guy Leo who got on with me, and he and the bus driver were the only folks awake on the bus. I chatted with each of them quietly for a little, I think we were all just glad to be moving
I packed two small carry-ons for the trip. I figure I'd rather stop at a Thrift Store in Madison than add the complication of checked baggage to this whole maneuver. One bag is my rucksack. It's just a standard bag of essentials I always keep packed in case I decide to go somewhere suddenly. The other is my laptop bag, filled with stuff to keep me entertained on the road. Books, movies and the like.
The ride on I-70 towards KC is familiar enough, I saw the sun rise over the highway and then got some reading done. I don't have the wifi access I was promised but now I'm here at the bus station catching up on blogging, maybe this won't be so crazy after all.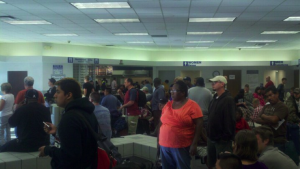 This bus station is not like the one at Junction. It's an actual depot with about 10 busses all lined up in a row and employees that actually work for the company. The building is simple, with a ticket desk, some bathrooms, a little food stand, and all surrounding a central sort of lobby with metal mesh seats and concrete slabs. Everything in the station is built to be indestructible, and the presence of some old video games and pay phones gives the whole place an early 90s feel
Some of the people here have clearly been here for a while, sprawled out on the floor. I feel distinctly out of place, but I get the sense that many others feel the same. It's a unique crew, with some military guys, some very young white girls, and quite a few people who are clearly in generational poverty, many of them notably overweight and wearing dirty clothes, while sporting some of the most creative haircuts I've ever seen.
There's some Amish folk here too. I don't know what sect, but they are wearing blue, and riding a greyhound so I guess they are some of the "liberal" Amish. It's interesting to me how opposite, and yet similar our experiences must be. We both feel like fish out of water, but here I am riding greyhound in an attempt to be radically counter cultural while for them this experience must feel like a dangerous compromise of their faith to be so conformist.
In the time since I've been here it's begun to get very crowded
It's 7:30 Am and my adventure is just beginning.