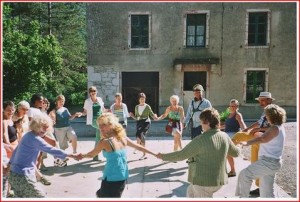 There is a cult down in Vista California called the Twelve Tribes that I went and visited some time ago.
You should know I don't use that term lightly. When I say "cult" I don't mean "people who believe differently from me", or "people who appear christian but aren't". What I mean is that they actually live on a compound separated from the outside world and invite you to join them in exchange for you selling everything you own and laying the money at their feet.
With that said, I actually had a very good time with them. They live a reasonably simple communal agrarian lifestyle, and celebrate together every morning and evening with "Menha" which involved a faux Israeli style party/worship service centered around dancing merrily in a circle. And it's awesome.
I saw a similar thing at my cousin's wedding to his Turkish bride, and another variant at a seminar on multiethnicity for the United Methodist Church. Dancing together engenders community, participation, learning and fun. Unlike the ambiguous waving and shifting common to our protestant worship services that resemble a Pearl Jam Concert. The organized choreographed movements of these communities hearken to mind old Irish line dances and Shaker Ceremonies of early America.
Every time I see a group social dancing all together I think "Yes! That, we need to do more stuff like that!"
I saw it again at camp the other night when, in the middle of praise a group of our inner city kids spontaneously broke out in a line dance that appeared to me to be the Cupid Shuffle. It was stinking awesome.
My old girlfriend and I used to Swing Dance to worship songs back at RockHarbor Church, (most of the songs are in 3:4, the rest are Salsas) but without the community element it was a me and her thing, not something everybody was going to get in on. Still I feel like the precedent is there. If you're a worship leader reading this, this is your opportunity. I claim no ownership over this idea and put it in the public domain. I strongly suggest you try it.