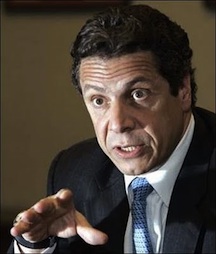 Gov. Andrew Cuomo of New York is supposed to be a Catholic, yet he celebrated the passage of a same-sex marriage bill in his state. At the press conference after the signing he expressed the hope that same-sex marriage in New York would be the beginning of a "progressive" movement across America.
Andrew Cuomo is destined to become the Ted Kennedy of the next generation unless he is defeated.
Most readers will recall that his father, Gov. Mario Cuomo, was a leading Catholic politician of his time, albeit a dissenting one. Cuomo Sr. had a public dispute with Cardinal O'Connor of New York during the 80s that defined the lines of the abortion debate among Catholics that remains today.
But Andrew Cuomo has gone well beyond his father: His father admitted that Catholic teaching does not recognize the lawfulness of abortion, yet argued as governor he could not compel the citizens of a "pluralistic society" to give up abortion.
Andrew Cuomo doesn't bother with the division between private conscience and public responsibility — he just barges ahead pushing what agenda the secular Left insists upon, in this case, gay marriage.
Read more on this in my post at Catholic Advocate on "Andrew Cuomo and the Future of 'Social Justice' Catholics."
Following the passage of similar legislation in Rhode Island on June 29th, bishops in both Rhode Island and New York have responded to Cuomo by reiterating the duty of the Catholic laity  to hold public officials accountable for their actions.
Bishop Tobin of Rhode Island made the perspective of the Church very clear:
"I am deeply disappointed that Rhode Island will establish civil unions in our state. The concept of civil unions is a social experiment that promotes an immoral lifestyle, is a mockery of the institution of marriage as designed by God, undermines the well-being of our families, and poses a threat to religious liberty."
Same-sex marriage is moving up the list of contested issues for the 2012 election. This is not good news, by the way, for those politicians who support gay marriage. With the exception of a few states on the East and West coast, most Americans are opposed to changing our legal definition of marriage.