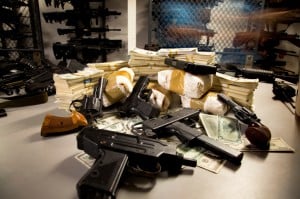 There's troubling new evidence that the botched gun-running program known as Operation Fast & Furious is now responsible for the deaths of dozens of innocent citizens in Mexico.
The Justice Department program put thousands of guns on the streets – guns that ended up in the hands of Mexican drug cartels. A U.S. Border Patrol agent was murdered by one of these weapons.
Now, an investigative report concludes that dozens of people in Mexico – innocent citizens – have also been murdered with weapons from Fast & Furious.
We also know that Attorney General Eric Holder refuses to take responsibility for this tragedy. An Inspector General's report pointed the finger at several officials inside the DOJ and the ATF. But, in the end, the Attorney General was given a pass.
Congress continues to move forward to get to the truth. But, as I told FOX News this morning, the fact is it is time for Attorney General Holder to step down.
http://www.youtube.com/watch?v=D3MwgRslpCs
The fact is there are now 131 members of Congress who have called for the resignation of Attorney General Holder. The most recent coming yesterday from Rep. Paul Ryan, the Republican vice presidential candidate.
More than 70,000 Americans have joined with us in calling for the Attorney General to step down. If you haven't done so already, please add your name to our petition here.