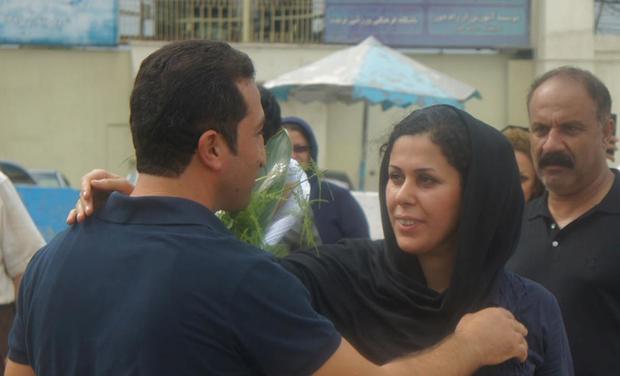 (Pastor Youcef greeted by his wife after being released from Iranian prison on Saturday. Photo courtesy of Facebook.)
What an incredible blessing. As we first reported on Saturday, after nearly three years of imprisonment and facing a death sentence, Pastor Youcef Nadarkhani was released by Iranian officials this past weekend.
I want to thank all who stood with us in support of Pastor Youcef. More than three million people received a tweet each day for nearly a year, keeping this important case in the spotlight.
While our work in this country and abroad focused on securing Pastor Youcef's unconditional release, I was shocked it happened on Saturday. I believed all along that economic pressure from other countries that do business with Iran would eventually lead to the release of Pastor Youcef – pressure from countries like Brazil, which clearly understood the nature of this horrendous case.
Another ingredient that led to Pastor Youcef's freedom: global media attention – keeping Pastor Youcef's plight in the news. I believe that added to a sense of embarrassment for Iran.
As I told Megyn Kelly today on FOX News, I believe that a combination of those factors – economic pressure and media advocacy – led to Pastor Youcef's release. And I believe the order to release Pastor Youcef came from the very top – Ayatollah Khamenei himself.
http://www.youtube.com/watch?v=i2o7tK8oEJ0
 
We remain concerned for Pastor Youcef's safety. Being released from prison does not guarantee his safety. We know for a fact that in the past some pastors who were released by Iranian officials were murdered just days after their release. Please continue to pray for Pastor Youcef and his family.
While Pastor Youcef's release is truly a significant victory, the persecution continues for countless other Christians in countries where radical Islam has a strong foothold.
 
No where is that more evident than in Egypt, where the new government – the Muslim Brotherhood – has taken control. Egypt's new president says that Egyptian Christians need to know that "conquest is coming."
Secretary of State Clinton was very helpful in speaking out about Pastor Youcef's case. What is needed now is strong condemnation from the U.S. about the way Egypt's Christians are being treated.
Stand with us now. Sign on to our Petition to Defend Egypt's Christians.