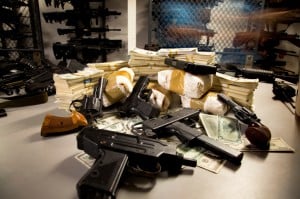 Important new questions are being raised about what Attorney General Holder knew about Operation Fast & Furious – the botched gun-running program in Mexico – guns that ended up in the hands of drug dealers – a flawed program that left a U.S. Border Patrol agent dead in 2010.
For months now, Congress has been trying to get to the bottom of what happened, and what Holder, the nation's chief law enforcement officer, knew and when. We've been reporting on the stonewalling, the lack of information provided by the Attorney General. Holder could very well be held in contempt of Congress if he continues to refuse to provide additional information requested in a subpoena.
Now, there's troubling new evidence that's prompting more questions about what Holder knew and when. Rep. Darrell Issa, chairman of the House Oversight and Government Reform Committee, said today his committee has obtained new information from wiretaps that suggest high-ranking officials at the Justice Department knew more than they are telling Congress.
In a letter sent to Holder today, Rep. Issa wrote: "The wiretap applications show that immense detail about questionable investigative tactics was available to the senior officials who reviewed and authorized them. The close involvement of these officials – much greater than previously known – is shocking."
This new information comes as former Attorney General Alberto Gonzales says Congress has the "right" and the "obligation" to probe this disturbing program. He is absolutely correct.
The fact is this issue isn't going away. America wants to know – deserves to know – what happened with this debacle – and what exactly was the role of the nation's top law enforcement officer in all of this.
The Attorney General gets another opportunity to put an end to the stonewalling on Thursday, when he's scheduled to appear before the House Judiciary Committee.
We will see.