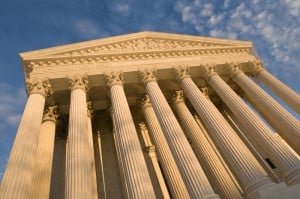 There's no question about it. President Obama's warning to the Supreme Court about ObamaCare has accomplished one thing. He has assured that the Supreme Court will be front-and-center in the upcoming presidential campaign. It will be a campaign issue. A political issue.
The president's chastisement of the Justices is extraordinary. Going well beyond expressing his opinion about whether ObamaCare will survive the constitutional challenges, the president unleashed what can only be seen as a tactic to intimidate – to influence – the high court. The president argued that declaring ObamaCare unconstitutional would be "unprecedented" and labeled those who might vote against the health care law as "judicial activists."
The back-and-forth continued with the Attorney General responding to a request from a federal appeals court judge outlining the Obama Administration's position on the role of the judiciary.
I debated this issue on America's Newsroom on FOX News this morning. It's clear this issue isn't going away. And, the Obama Administration has only itself to blame for this ongoing debate.
I told you in my post yesterday that Senate Minority Leader Mitch McConnell told President Obama to "back off" on his assault against the high court. And Senator McConnell went a step further when he said: "The president crossed a dangerous line this week. And anyone who cares about liberty needs to call him out on it. The independence of the court must be defended."
Very true.