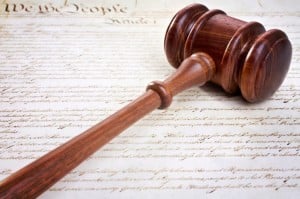 It's an important case that underscores the separation of powers. Senate Republicans will file a friend-of-the-court brief in support of a federal lawsuit challenging the constitutionality of recent recess appointments by President Obama – specifically to the National Labor Relations Board (NLRB).
Here's the problem. The president made those appointments while the Senate was in pro-forma session. The fact is the Senate was not in recess, and the president's so-called "recess" appointments represented a constitutional overreach.
As I told Megyn Kelly on FOX News today, the Senate is part of a co-equal branch of government that is entitled to set its own rules, and the president simply can't step in and override them.
http://www.youtube.com/watch?v=Cc89GHV2HVI
What's important to note, as I underscored in my interview on FOX, President Bush made recess appointments when he was in the White House. But the fact is he never overrode the Senate and its own rules. He understood that when the Senate was in session, he was not permitted to make "recess appointments."
In announcing the move to file an amicus brief challenging the president's unconstitutional recess appointments, Senate Republican Leader Mitch McConnell put it this way:
"The President's decision to circumvent the American people by installing his appointees at a powerful federal agency, when the Senate was not in recess, and without obtaining the advice and consent of the Senate, is an unprecedented power grab. We will demonstrate to the Court how the President's unconstitutional actions fundamentally endanger the Congress's role in providing a check on the excesses of the executive branch." 
Sen. Roy Blunt (R-MO) told reporters he is "glad" that Senate Republicans are getting involved in the case. "The Senate should decide when the Senate is in session," Sen. Blunt stated.
This is a very significant case. We are now in the process of conducting an in-depth review of this case and will make a determination shortly on whether we will file an amicus brief challenging the president's appointments in this case. I will keep you posted.