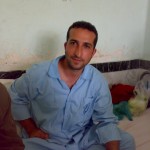 I can confirm that Pastor Youcef Nadarkhani is alive today, his 35th birthday. He remains illegally imprisoned in Iran, now incarcerated for two-and-a-half years. He is being held against international law, and has been condemned to death for one reason – his Christian faith.
As you know, we have been involved in working to secure his freedom in this country and abroad, continuing to put this life-and-death struggle in the international spotlight. And, as Pastor Youcef turns 35 years of age today, we offer our prayers for his immediate and unconditional release.
You can read more about the latest information we have regarding Pastor Youcef and efforts to free him in this post here.
We remain dedicated to doing all that we can to keep this story in the news and to keep pressure on Iran to free Pastor Youcef.