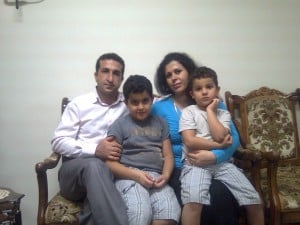 The U.S. House of Representatives today unanimously approved a resolution condemning Iran and calling for the immediate release of Christian Pastor Youcef Nadarkhani, who faces death by hanging in Iran because of his Christian beliefs.
This vote in the House is very important. It sends a powerful message that human rights and religious freedom transcend political and religious differences. As you may recall, we've been generating support for this resolution for weeks now and I am happy to report that more than 180,000 Americans urged House members to approve H.Res. 556.
This vote also represented a significant bi-partisan effort with the resolution, posted here, spearheaded by Representatives Joe Pitts (R-PA), an evangelical Christian conservative, and Keith Ellison (D-MN), the first Muslim in Congress. A similar resolution is now being introduced in U.S. Senate and the ACLJ will continue to work to urge members there to stand in support of Pastor Youcef.
And, now some other important news about our global efforts to secure the release of Pastor Youcef.
Today marks the 871st day of Pastor Nadarkhani's illegal detention. As you know, we have launched a massive social media campaign – Tweet for Youcef – to generate support for Pastor Nadarkhani. The Twitter campaign now reaches more than 960,000 Twitter accounts in 198 countries and territories. More than 3,500 people have signed on to send one Tweet a day on behalf of Pastor Nadarkhani. The Tweet for Youcef campaign has attracted the attention of celebrities and media representatives worldwide.
International soccer icon Ricardo Kaká, the 17th most followed person on Twitter in the world with over 8.8 million followers, is promoting the Tweet for Youcef campaign. Also lending support to the Twitter campaign: Donald Trump, Ann Coulter, Michelle Malkin, Congresswoman Michele Bachmann, actresses Patricia Heaton and Julie Benz.
We are continuing our work in this country and abroad to ensure that more pressure is applied to Iran to release Pastor Youcef. I will keep you posted regarding any new developments.