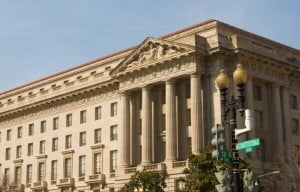 It can only be described as a smokescreen to cover the actions of President Obama. The Department of Justice today released a memo backing President Obama's disturbing "recess appointments" made earlier this month. The memo is dated January 6th, two days after the appointments occurred. Usually a President will solicit advice from the Justice Department in advance of taking action that is considered controversial or raises constitutional questions.
Not this President. The memo is two days late. It should come as no surprise that the Justice Department put out an analysis designed to back the President's actions.
The problem with the memo is that it provides a faulty legal analysis wrongly claiming that the Senate was not in session when these appointments occurred. As we've discussed repeatedly, the Senate was indeed in session, in Pro Forma session. Our detailed legal analysis concerning this issue is posted here.
The fact is this DOJ memo changes nothing: President Obama acted in a unconstitutional manner in making these appointments – ignoring the rule of law and nearly a century of precedent.
As you may already know, Congress is concerned about this overreach. And, we continue to hear from thousands of Americans – now more than 55,000 – who have signed on to our petition demanding President Obama retract these appointments.
What's clear is this: Americans and a growing number of members of Congress want the President to abide by the Constitution and the rule of law.