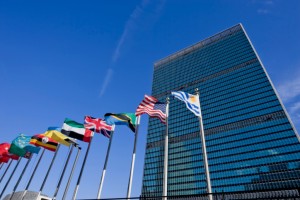 We knew that it would happen. Palestinian President Abbas submitted his request to the United Nations seeking complete statehood for the Palestinian Authority (PA) – a government led by Hamas, a terrorist organization that vows to destroy Israel.
The PA bid for statehood is now under consideration at the U.N. Security Council. Our legal and legislative teams, working at the U.N. and around the globe, are demanding that President Obama veto any measure that grants the PA statehood. At the same time, we have heard from more than 60,000 Americans in just one week – standing with us in support of Israel and urging the United States to reject the push for statehood.
Now, it is time for Phase 2. The fact is that billions of U.S. taxpayer dollars go to support the United Nations and countries that back the terrorist-led Palestinian Authority. In fact, last year alone, the U.S. gave more than $7 Billion to the United Nations – representing nearly one-quarter of the U.N.'s budget.
That is why we are now working with Congress to support legislation to defund the U.N. – stop the flow of federal taxpayer dollars – if the PA is granted an elevated status at the U.N. It is simply unacceptable that billions of our tax dollars go to support an organization and nations that back a terrorist-led government that wants to eliminate Israel.
As we continue to make the case at the U.N. that any bid for PA statehood violates international law, we are also now focusing on Capitol Hill, where our legal and legislative teams are also engaged.
Legislation to pull the plug on U.N. funding is now under consideration in Congress, including numerous measures in the House and in the Senate. We need to send a strong message to the United Nations and those countries that back the PA. If you vote for PA statehood, you lose U.S. funding. It's that simple.
Stand with us now on this critical issue. Add your name to our petition calling on Congress to pass strong legislation now.
Keep in touch with the ACLJ and our work on this issue and others by regularly visiting the Jay Sekulow page on our website.