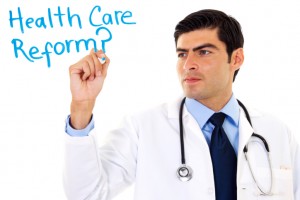 As we prepare for oral arguments Friday before a federal appeals court in Washington, D.C. in our appeal of our lawsuit challenging ObamaCare, it's important to note that a growing number of Americans reject the pro-abortion, government-run, and costly health care law.
In a new poll released by Rasmussen, 56% of likely voters favor repeal of ObamaCare, while 52% say the health care law is bad for the country. A clear majority of voters have favored repeal of the law in every Rasmussen survey but one since the measure was passed by Congress in March of last year.
As you may recall, our legal team is preparing for critical arguments before a three-judge panel of a federal appeals court in Washington on Friday. We're appealing a lower court decision dismissing our federal lawsuit which challenges the constitutionality of ObamaCare. We filed our lawsuit in federal court in 2010.
I discussed the upcoming arguments with Shannon Bream of FOX News just a few days ago. You can watch that interview here.
http://www.youtube.com/watch?v=AmbHgYD_WZI&feature=player_embedded
As we have stated from the very beginning, we contend that the individual mandate, which forces Americans to purchase health insurance, is unconstitutional. In a brief filed with the U.S. Court of Appeals for the District of Columbia Circuit, we argue:
"The individual mandate is unconstitutional because it exceeds even the outermost bounds of Congress Article I authority and is inconsistent with the constitutional system of dual sovereignty that divides power between the federal and State governments," the brief contends.   "Under the Commerce Clause, Congress cannot 'regulate' inactivity by requiring individuals to buy a good or service as a condition of their lawful residence in the United States. . ."
In our arguments, we will urge the appeals court to strike down the law because the individual mandate provision is nothing more than a brazen power-grab by Congress – a provision that renders the entire law unpalatable and unconstitutional.
The Constitution and Supreme Court precedent are clear: the health care law oversteps the authority of Congress.
That is the argument we will make on Friday – an argument that we are confident will succeed.
Get the latest news on this issue and other important developments by visiting the Jay Sekulow page of our website.