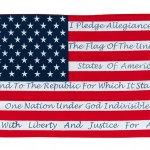 It's a victory for the Pledge of Allegiance and for the American people – including the tens of thousands of you who stood with us in support of the Pledge and the phrase "one nation, under God."
You'll recall on the final day of the U.S. Open Golf Championship in late June, NBC aired what was supposed to be a feature story designed to pay tribute to America.  But, as you know, that feature story had been edited – and the phrase "under God" removed from the story. Not once, but twice.
You can watch the clip here.
http://www.youtube.com/watch?v=yq8tydBo5RI
We immediately addressed the issue and within just a matter of days, tens of thousands of you signed on to our Letter of Protest – demanding that NBC put in place a policy that ensures when the Pledge airs, so do the words, 'under God'.
We were not alone. Led by Congressmen J. Randy Forbes (R-VA) and Mike McIntyre (D-NC), more than 100 members of Congress – including many members of the Congressional Prayer Caucus, signed on to a letter expressing the very same concerns we did to NBC.
In a letter responding to those concerns, Kyle McSlarrow, President of Comcast and NBCUniversal addressed the issue in detail:
"Unfortunately, a serious error in judgment was made by a small group of people. To be absolutely clear, this was not an ideological decision by the company and it was not discussed with or approved by any senior NBCUniversal official. We have made quite clear – internally and externally – that the employees who made this decision were wrong. Not only were countless citizens justifiably upset, but also the actions of this small group cast a negative light on NBCUniversal, NBC, and NBC Sports, as well as our partners at the United States Golf Association. It was an inexcusable mistake in judgment and it will not be repeated."
And, NBC now says it is addressing the chief concern: putting a policy in place to keep this from happening again.
"We are taking steps to prevent similar mistakes in the future. The employees involved have been reprimanded. And we have already implemented a new checks and balances process for preproduced pieces, ensuring that nothing will go on the air without senior-level approval, including and up to the executive in charge of production at any event. We are confident that taking these steps will prevent further incidents and we are hopeful that our apologies will be accepted."
The complete letter is posted here.
Millions of Americans understand that the Pledge – including the phrase "under God" – is part of our nation's history and heritage. Let's hope NBC got the message.