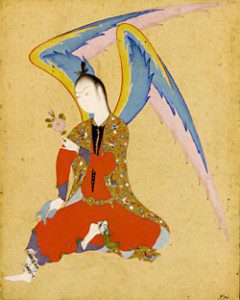 A quick way of getting a message for any day is to open a book at random and see what is in front of you. The fancy name for this process is bibliomancy. The favorite book that has been used for such purposes in the West, for as long as we have had printed books, is the Bible. Abraham Lincoln used his family Bible – the one on which Barack Obama took his oath of office – to get messages in this way, including second opinions on his dreams.
On the Connecticut shore, leading a training for teachers of Active Dreaming, and enjoying the gentle waters of Long Island Sound, one of my travel companions was Coleman Barks' exquisite edition of The Essential Rumi. The poems here are not literal or near-literal translations. They are versions of translations by scholars from the great 13th century Persian poet of visionary experience and direct encounter with the Beloved of the soul. I was looking to Rumi, as mediated by Coleman Barks, for my morning messages.
When I opened the book at random, I got Rumi's parable poem of "The Three Fish".
Your real country is where you're heading, not where you are.
There's also this excellent counsel for the spiritual road traveler:
When you're traveling, ask a traveler for advice,
not someone whose lameness keeps him stuck in one place
The next morning, I turned to Rumi again, and was thrilled by his evocation of the nearness of the Guide, the one who is never hidden from us except by the many ways in which we hide ourselves from him.
We've come to the presence of the one who was never apart from us
Then we begin to feel the afflux of a greater power. We are more than we are, in our little everyday selves, stuck in the grooves of habit and self-limiting beliefs:
When the water-bag is filling, you know the water carrier's here.
Encouragement for any day to open to the presence of a greater power and to take the creative risks that draw the Greater Self closer.
Art: Seated Angel, Iran, 1575-1600, Opaque watercolor and gold on paper. From the Freer Gallery of Art and the Arthur M. Sackler Gallery. Lent by the Art and History Trust LTS1995.2.72