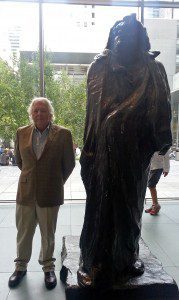 The stronger the emotion, the stronger its effect on our psychic and physical environment. And the effects of our emotions may reach much further than we can initially understand. They can generate a convergence of incidents and energies, for good or bad, in ways that change everything in our lives and can affect the lives of many others.
When we think or feel strongly about another person, we touch that person and affect their mind and body — even across great distances — unless that person has found a way to block that transmission. The great French novelist Honoré de Balzac wrote that "ideas are projected as a direct result of the force by which they are conceived and they strike wherever the brain sends them by a mathematical law comparable to that which directs the firing of shells from their mortars."
Scientific experiments have shown the ability of the human mind and emotions to change physical matter. Conversely, rage or grief can produce disturbing and sometimes terrifying effects in the physical environment. Many of us know people who stop watches or blow up computers when their emotions are running high and uncontrolled. That's just the start of it. An angry person can be a firestarter. I've seen major fires generated by the force of someone's violent rage. I've seen punishing windstorms and freak, localized snowstorms generated in a similar way. These things don't just happen in Stephen King novels.
So let's talk about passion.
Our passions can lead us into madness. They can also give us the creative edge to do our best and most original work and the magnetism that generates extraordinary opportunities and serendipity.
The passions of the soul work magic. This observation, attributed to the great Dominican scholar and magus Albertus Magnus (and loved by Jung) is practical guidance of the highest order. There are two conditions for working positive magic this way.
The first is that we must choose to take the primal, pulsing energy of our strongest passions and direct it toward a creative goal. The passion that is throbbing and surging inside us may be love or lust (or both), the fierce desire to give birth or the desperate wish to end it all. The passion may be wild rage or terrible grief. Whatever its origin, the strongest passions of the soul produce the energy to remake our world — if we choose to direct that energy. Imagine a vast body of pent-up water, engorged by a pounding thunderstorm, that is going to burst through a dam with irresistible power. We can choose to harness that force, turning it into hydroelectric power that can light our city and warm our homes. Or we can let it swamp everyone and everything in its path, bringing misery and devastation.
The second requirement for letting the passions of the soul work magic is that we must seize the moment when they are running strongest and give ourselves completely to acting in the power of that moment. The time is always Now, but when the passions of the soul are at work the time is also GO. I know this as a writer. Often my best work is done when I am in a state of great turmoil, when my passions are running strong but my heart and mind are also conflicted. Such moments give us an edge. I know, from experience, that my best and most original work can come through now — if I use that edge and make myself available to the work any time it is coming through..
In his early novel Louis Lambert, Balzac's version of what becomes possible through exercising the passions of the soul is thrilling and edgy. Acts of mind, fueled by passion, abolish time and space. "To desire is immediately to be where one desires to be, instantaneously to be what one desires to be." Time is devoured by the moment; space is absorbed by the point. "For the man in such a state, distances and material objects do not exist, or are traversed by a life within us."
What kind of desire makes these things possible? "A desire is a fact entirely accomplished in our will before being accomplished externally." The passion that works magic is "the will gathered to one point" so that "man can bring to bear his whole vitality."
A person who carries a great desire is surrounded by a certain "atmosphere," a "magnetic fluid" that moves in waves, like sound and light, and touches others. That person produces "a contagion of feelings." Passion of this kind magnifies sensory abilities; we can see and hear and sense things vividly across distance.
Coincidences multiply around such a person, because things now happen through "sympathies which do not recognize the laws of space."
Adapted from The Three "Only" Things: Tapping the Power of Dreams, Coincidence and Imagination by Robert Moss. Published by New World Library.
Photo: with Balzac at the Museum of Modern Art, New York NY.