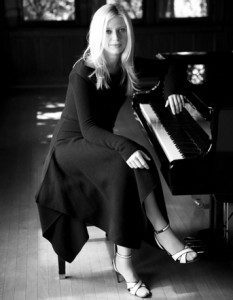 I was privileged last night to be present at a performance of Rachmaninoff's Piano Concerto No. 2 in which a virtuoso Ukrainian-born concert pianist, Valentina Lisista, played with stunning grace and spirit. She sent me deep into Russia, sometimes under the Northern Lights. She was perfectly attuned to the composer, and brought his work into vivid life.
I was reminded of how another gifted contemporary pianist who specializes in Rachmaninoff was partly mentored in dreams by the great Russian composer himself. Olga Kern, a lovely and gifted young Russian pianist, has won many international awards. She has a remarkable musical pedigree. Her ancestor Anna Kern inspired Pushkin to write a love poem. Olga's great-great-great-grandmother was a pianist and a friend of Tchaikovsky. Her great-great-grandmother sang on stage accompanied by Rachmaninoff. Her grandfather is an oboist still active at eighty-six as a professor at Gnesyns Music Academy in Moscow. Both her parents are pianists.
At seventeen, Olga Kern was the youngest participant in the first Rachmaninoff Piano Competition in Moscow. She had a very interesting mentor. Before the second round, she dreamed that Rachmaninoff was playing a piano alone in a huge auditorium, waiting for her. He looked up at her and said, "Olga, I've been waiting for you. You should play something for me; we have a lesson scheduled." Olga was amazed, thinking, "Goodness, it's Rachmaninoff!" Still stunned, she sat down and played a piece from her competition program — the Barcarolle.
Rachmaninoff listened intently. When she was finished, he said, "Good. And now I'll show you how I play it." He proceeded to play the Barcarolle in his own style — "phenomenally," Olga recalled, "a bit dryly, yet impulsively, without pedals."
Olga woke up and called out, "Mama, mama, I saw Rachmaninoff in my dream!" Her mother was troubled by this. She asked Olga's father if he thought she was practicing too hard.
Inspired by her private lesson with Rachmaninoff, Olga proceeded to win the competition organized in his name. She described the rush of energy that flowed from the dream as a "hurricane" that swept her through the second and third rounds of the contest.
Prior to the dream, Olga had never heard Rachmaninoff's own rendition of the Barcarolle. This might seem surprising, given her family's musical history. But the time was 1992, post-Soviet society was a shambles, and even getting basic food was — as a Russian friend living in Petersburg at the time puts it — "an extreme sport." Recordings of Rachmaninoff were available only from private dealers at very fancy prices.
A year after winning the Rachmaninoff competition, when Olga was on tour in Japan, she was able to purchase a CD set of his complete works. When she played his rendition of the Barcarolle, she found that Rachmaninoff played it exactly as he had done in her dream. Olga Kern went on to honor her dream tutor by playing all his piano concertos in a tour of several South African cities to great critical acclaim. Her international career took off in earnest after she won a gold medal at the Van Cliburn Competition in 2001.
I did not have the opportunity to ask Valentina Lisitsa whether she has dreamed of Rachmaninoff, or felt his presence, but I sense that the spirit of the great composer is still quite active on the musical scene.
Part of this article is adapted from The Secret History of Dreaming by Robert Moss. Published by New World Library.