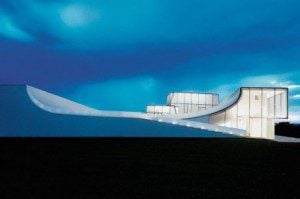 She designed a stage set when she was eight, and living in her native Rio de Janeiro: a giant tree painted on a black background. As a film maker, she recently directed and produced an extraordinary nine-hour documentary, "Amazônia (Projecting on Black" that flouts the rules of cinema in a number of ways. The images are projected onto a black screen, instead of a white one. The action moves at nature's pace, no faster and no slower. You feel the sudden violence of a rain storm in one of the wettest parts of the world as if you were under it, then you are drifting at the speed of the great river. There are no humans in the film (actually 14 connected videos); trees and water, birds and animals, are the stars. She is artist, designer, architect.
Her name is Solange Fabião. She is now based in New York City, but for the past six years she has been spending a lot of time in Biarritz, the famous resort in France, working with American architect Steven Holl on the design and construction of a remarkable new museum. The Cité de l'Océan et du Surf (City of Ocean and Surf) opened last summer. Its curving lines, its hollows and convexities, evoke the rhythms of wind and water. It is no surprise to learn that the spatial concept came to Solange in a dream.
She says, "the conceptual/spatial idea came to me through a dream, the idea of an "encased wave". Following this dream I developed a first 3D sketch that gave the main direction for the design, the great curve, the volume under and the plaza above, the two sides expressed by the concave and convex, the connection with the ocean." She worked with Steven Holl to integrate the vision with the site. He had the inspiration to add two glass "boulders" (containing the museum shop and a surfers' kiosk) evoking natural rocks along the shore.
The architects' website contains a marvelous collection of photos, sketches and plans revealing how Solange's dream unfolded into the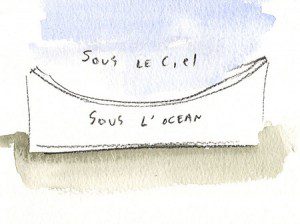 full physical creation. My favorite among the sketches is a cute little watercolor drawing illustrating the dream concept: Sous le ciel, sous l'océan ("Under the sky, under the sea").
In the City of Ocean and Surf at Biarritz, we see another brilliant example of how new creative achievements rise, fresh and glowing, from the sea of dreams.