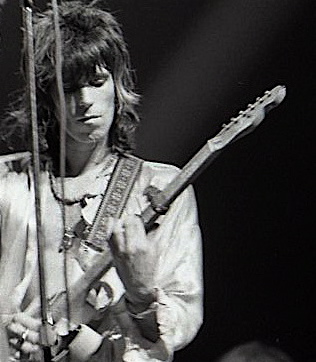 "(I Can't Get No) Satisfaction" may be the Rolling Stones' best-known hit; it has certainly set millions writhing. Ironically, it was the product of dream satisfaction, a creative nocturnal episode described by Keith Richards in colorful detail in a recent interview with Terry Gross on NPR's "Fresh Air::
"I go to bed as usual with my guitar, and I wake up the next morning, and I see that the tape is run to the very end. And I think, 'Well, I didn't do anything. Maybe I hit a button when I was asleep.' So I put it back to the beginning and pushed play and there, in some sort of ghostly version, is [the opening lines to 'Satisfaction']. It was a whole verse of it. And after that, there's 40 minutes of me snoring. But there's the song in its embryo, and I actually dreamt the damned thing."
You can listen to the whole interview here
That dreams can be creative muses is no news to musicians, of course. "Truth
moves through us when we sleep," Roseanne Cash wrote in a song she titled "The
Wheel". Many musicians and composers will recognize what she meant.
Billy Joel


has kept a notepad by his bed to jot down ideas and lyrics for songs that come
to him in his dreams. Sleeping in an attic room in London, Paul McCartney dreamed he
heard a classical string ensemble playing and woke with "a lovely tune" in his
head. He played it on an upright piano in the room. "I liked the melody a lot,
but because I'd dreamed it, I couldn't believe I'd written it. I thought, 'No,
I've never written anything like this before.'

But I had the tune, which was the most magic thing!

" When fellow-Beatles reassured him the
tune was something new, he found the words and recorded the hit song
"Yesterday". For more on the role of the dream factory in rock music, see my Secret History of Dreaming.
Keith Richards in 1972