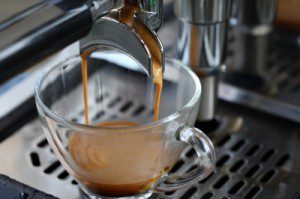 My daughter and I made a Starbucks stop the other day. She was in the mood for an Iced Caramel Macchiato Coffee and I wanted a Caramel Latte.
So we pulled up our fast food app and looked at the drink calories in our choices.
Iced Caramel Macchiato — Grande Whole Milk–233 calories,  30 carbs
Make it nonfat and it reduces to 173 calories.
And I made my Grande Caramel Latte Skinny with no whip–130 calories, 0 g, 9 carbs
Compare this to the Mocha Cookie Crumble Frappuccino that weighs in at 480 calories.
Maybe this doesn't sound like much, but reducing the fat and sugar in drinks takes the calories and carb count down, leaving you more room to eat a little something extra.
And liquid calories just don't give us that feeling of fullness that we need to prevent overeating. Purdue University research supports the idea that people who drink their calories tend to overeat later in the day. Apparently, our bodies don't register liquid calories the same as solid ones.
Here is what a study reported in the American Journal for  Clinical Nutrition found:
Cutting 100 calories a day from liquids resulted in weight loss of about 0.5 pound (0.3 kilogram) at 6 and 18 months.
Cutting 100 calories a day from solid foods resulted in a loss of about 0.1 pound (0.06 kilogram) at 6 and 18 months.
Eliminating 1 serving, or 12 ounces (335 mL), of sugar-sweetened beverages a day resulted in the greatest weight loss — 1 pound (0.5 kilogram) at 6 months and 1.5 pound (0.7 kilogram) at 18 months.
So if you are trying to lose those 5 extra pounds, what you drink may be more important than what you eat. For example, I love the peach milkshakes at Chick-fil-A, but considering the whopping 850 calories and 21 grams of fat, I am passing! I'll use those 850 calories on some solid food!
Maybe change out that morning protein shake for eggs and turkey bacon. Eat an apple versus drinking apple juice. Also, know the liquid calories in many of the popular drinks.
Consider your liquid calorie intake, reduce it and see if you start losing weight.