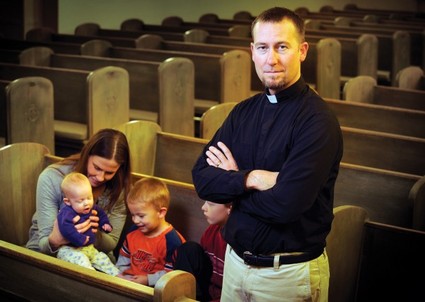 Another married Episcopalian is swimming the Tiber — and is about to be ordained a priest.
From the Billings Gazette:
When the Rev. Bart Stevens is ordained a Catholic priest in Billings on Thursday, he will share the moment with friends and family — including his wife and five children.

Stevens, 35, joins a small fraternity of married Roman Catholic priests. Since 1980, slightly more than 100 former Episcopal priests in the United States have been ordained priests in the Catholic Church.

He is the first in the Great Falls-Billings Diocese. And his presence has sparked talk around town, as his wife, Becky, found out not long ago at a local grocery store.

"She's in the checkout line and these people are talking about me," Stevens said, sitting in his office in a house next to Holy Rosary Church. "One says 'Did you hear about the married priest in the Catholic church?' "

The other person corrected the first one, suggesting it must be an Episcopal priest. The two went back and forth until Becky Stevens broke into their conversation.

"Becky's like, 'I think you're talking about my husband,' " Stevens said, smiling. "It takes people a while to wrap their head around it."

He will be ordained at St. Patrick's Co-Cathedral by Bishop Michael Warfel. Priests from throughout the diocese are expected to attend the ceremony.

So will Becky and their children, three girls and two boys ranging in age from 9 years to 4 months.

For Stevens, who will serve three parishes in Billings, his ordination is the completion of a journey that has brought him to the faith he was meant to embrace.
Read more. And welcome, Fr. Bart!