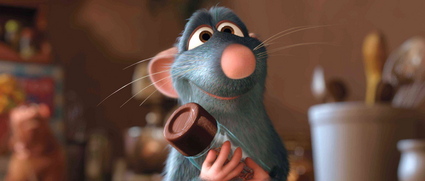 If you remember only one thing from this homily, I'm going to ask that you remember the name Willie Downs.
Willie Downs is a young man in his early 20s from Whitehouse, Texas who absolutely loves animation. His greatest dream is to work for Pixar and Disney. So a few years ago, he started writing to some of the giants at the studio, asking their advice. One of the people who wrote back is Pixar animator Aaron Hartline. Aaron sent a handwritten note, scribbled with what looks like crayon or a Sharpie.
Here's what he said:
Hi Willie –

Reading your letter, all I could think was DON'T GIVE UP! If you really love it, then don't let anyone tell you it's too hard, that you will fail.

When I took a tour at Disney right out of high school, I showed the tour guide/animator my work. She said 'It's easier to get a job as a basketball player than getting an animator position at Walt Disney Studios'. My mom said 'Are you sure you want to do this?' I was so angry. So motivated. I knew if I worked hard that one day…some day…I could do it! Took me 14 years of trying but it happened.

You can do it Willie!!

Work hard and really want it!

Check out www.animationmentor.com. I teach there. It's a great school with teachers who are professional working animators at the major studios.

Hope to be working with you one day.

-Aaron
In a minute, taking a cue from Paul Harvey, I'll tell you "the rest of the story."
But it strikes me that the message of Aaron Hartline's letter isn't all that different from Paul's letter to the Thessalonians – people also in need of encouragement, and inspiration. And to them Paul also said, in effect, "Don't give up."
Paul wrote: "May our Lord Jesus Christ himself and God our Father…encourage your hearts and strengthen them in every good deed and word."
And he concludes:
May the Lord direct your hearts to the love of God and to the endurance of Christ.
In effect, Paul was telling them: "Don't give up! You can do it!" Direct your hearts. Remember the life and mission of Jesus Christ.
And endure as He did.
In a way, we encounter a similar idea in Luke's gospel. Jesus was confronted by the Sadducees, who did not believe in resurrection. But he told them that they are wrong. There will be a resurrection. And we will be transformed. Our next life will not be like this one. We will be like angels, Christ said, "the children of God."
The overwhelming message is this: have faith in that. Endure. Believe in what will come. And don't give up! What we will see in the next life is so much more than what we imagine in this one.
It's no accident that we are hearing these sentiments now, at the beginning of November, when the Church turns her attention to praying for those who have died. We have here a book of remembrance and a lit candle. There are envelopes by the tabernacle, with names of loved ones to be prayed for. And at this mass, and at all masses during this month, we will read the names of those who have died. They will not be forgotten.
But what also cannot be forgotten is this beautiful assurance: that the end of this life is the beginning of another. "He is not God of the dead," Jesus said, "but of the living,
for to him all are alive." All who have died in Christ will live with him in the resurrection. So, to all those plagued by uncertainty or doubt: don't give in, or give up. Don't be held captive by cynicism, fear or grief. This world offers barely a hint of a world to come. Persevere in Christ. Or, as Aaron Hartline wrote, "You can do it!"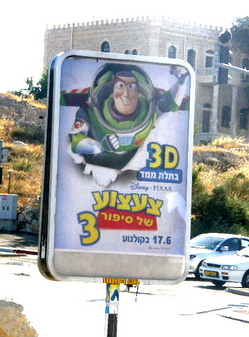 It's advice that Willie Downs took to heart.
He became a student at the animation mentor school. A few months back, he was able to make a visit to California and actually meet some of the heroes who have guided him along the way – including Aaron Hartline.
And on his blog, Willie – a devout Christian — also described making a visit this past summer to the Holy Land. He wrote about how beautiful and humbling it was to walk in the footsteps of the Lord.
But the highlight for him may have been driving through Jerusalem, when he spotted and photographed an Israeli poster advertising, in Hebrew, "Toy Story 3."
To Willie Downs, I imagine, it was another sign that he was in the Promised Land.
He is on his way to fulfilling his life's dream – encouraged by the generous support and friendship of some of the people he met at Pixar.
Aaron Hartline's message to him is really Paul's message to us — and Christ's message to the Sadducees. This isn't the end of the road. Be strong. Be faithful. Look beyond the lengthening shadows and darkening skies of this time of year. Look to a time of resurrection and hope. Because there will be a resurrection. And all who have died in Christ will live in him.
Paul assures us: it is worth the effort.
Like Willie Downs, we have a mentor and friend seeking to offer us encouragement and support. Christ's friendship will not waver. "The Lord is faithful," Paul writes. He will be with us, even when the odds are stacked against us.
Or, in the immortal words of Aaron Hartline: you can do it. We all can do it. Don't give up!
[You can follow Willie Downs' journey on his blog, and also keep up with Aaron Hartline's work on his own blog.]
Top image: copyright Disney and Pixar, All Rights Reserved.