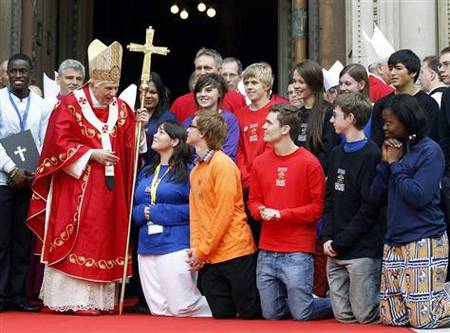 Nearly a month later, spiritual uplift in the country continues to bounce along.
From a British writer at Patheos:
Since the pope's mid-September visit here, there is a definite sense of English Catholics suddenly rediscovering their confidence (the Scots have never lacked this). This emboldened spirit even seems to be emerging from the normally reticent hierarchy. Archbishop Vincent Nichols of Westminster (London) in a pastoral letter following the pope's visit urged his flock to make their faith more visible in daily life, by offering to pray for people, by openly blessing themselves with the Sign of the Cross, or by making such remarks to people as "God bless you."

Now to some, especially in a country as in-your-face religious as the USA, this may seem pretty basic. But in one of Europe's most secular nations, where even an employee of British Airways was disciplined for wearing a cross, this is quite up-front and noteworthy.

Roman Catholics could be forgiven for feeling cowed by the aftermath of the abuse scandals, yet since the pope's humble acknowledgement of the hurt and anguish suffered through decades of inaction and mishandling, there is a tangible feeling that a boil has been lanced.

The Holy Father's visit began with media hostility and ended in tens of thousands of people — not just Catholics — lining the streets for him. Visiting several churches across different cities since his visit, one notes a sense of the foot soldiers in the pews feeling less inhibited about their faith. Hearing a newly-consecrated bishop preach last week on the 10th anniversary of the establishment of the Schoenstatt' movement's first shrine in the UK, I was struck by the sheer joy on this shepherd's face as he peppered his homily with references to the words the Holy Father uttered in the UK.

And people seemed so grateful for this.

Some bishops have referred to a "Benedict bounce" with more people coming to church and an increase in inquirers.

Personally I think this is far too robust a term to be associated with the holy, gentle, humbly intellectual genius that is Pope Benedict XVI. It is no coincidence that he chose Newman's motto Cor Ad Loquitur (heart speaks to heart) as the motto for the UK visit. The awesome, genuinely warm four-day exchange between shepherd and flock will grow a lasting fruit because Pope Benedict spoke to our hearts — and indeed our souls — but the season of growth may be extensive. His kind of witness sometimes takes longer to bear fruit as we try to overcome our concupiscence.