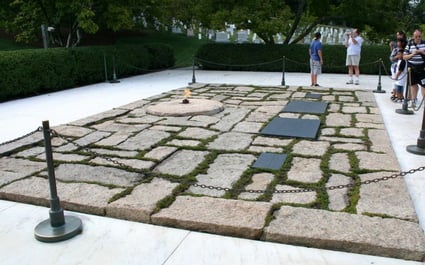 It evidently needs some work, and the Knights are stepping up to pay for it:
Workers plan to begin restoration work on Thursday of walls near John F. Kennedy's gravesite where words from his 1961 inaugural address are inscribed.

The Knights of Columbus, a Catholic lay organization, is underwriting about $6,000 in repairs after the group's officers visited the gravesite in August and noticed the inscription of the phrase, "Ask not what your nation can do for you, ask what you can do for your country," was fading.

"This guy was a brother Knight, we fondly remember his presidency and want to maintain the memory of the wonderful speeches he gave," said Knights spokesman Patrick Korten. Kennedy, the nation's first Catholic president, was a member of the group's Bunker Hill Council 62 in Charlestown, Mass., from 1946 until his death in 1963.

Group officials contacted Arlington National Cemetery offering to pay for the restoration and officials eventually agreed. The cemetery hired Gordon Ponsford, a conservator who has done similar work at the cemetery in recent years.

The original engraving was done by stone mason John Everett Benson, 72, who still works from his home in Rhode Island.