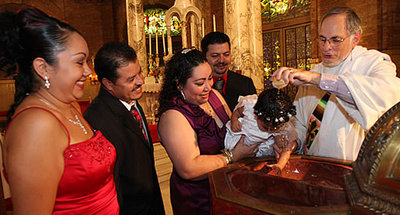 Statistics like that are mind-blowing: my busy parish in Queens averages a little over 100 baptisms a year.
Extended families greet one another with hearty handshakes and pecks on the cheek as they file in to Incarnation church in Minneapolis on a recent Saturday morning.

Professional photographers and video­graphers scope out ideal vantage points while moms and dads snap photos of their kids in front of flowery side altars. Toddlers dressed in white gowns and three-piece suits squirm in their parents' arms.

About 15 minutes after the ceremony is scheduled to begin, Deacon Carl Valdez leads the congregation in an opening hymn, explains in Spanish the importance of what is about to occur, then invites families to line up in front of the altar.

Time after time, Deacon Valdez says a blessing as he carefully pours water over each child's head. By the end of the hour-and-a-half ceremony, he has baptized 28 children.
600 baptisms

It was a typical Saturday for Incarnation's Spanish-speaking Sagrado Corazón de Jesús community, which celebrates approximately 600 baptisms per year — more than any other parish community in the archdiocese.

Deacon Valdez remembers the first time he was called to do baptisms at Incarnation three years ago, just before he was assigned to the Minneapolis parish. "It was a hot day," he recalled. "I walked in and there were 54 kids to baptize."

Since then, Deacon Valdez has reduced the number of baptisms he's willing to perform at one time in an effort to better prepare families for the sacrament. Parents and godparents are required to attend a three-to-four-hour class, where they learn about the sacraments and the symbols involved. If the child to be baptized is old enough, he or she also receives instruction.

Deacon Valdez realizes that many of the families whose children he baptizes are not regular church goers. And, some parents aren't married. But he uses the opportunity to gently inform them of their responsibilities as Catholics. Then he invites them into full communion with the church.

"At least we can say in an inviting way, not in a chastising way: 'You are saying you want to live your Catholic faith because you're baptizing your child. How are you living your faith?'" Deacon Valdez said.