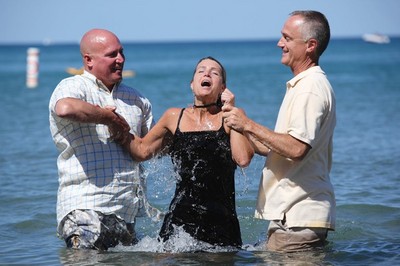 This can only be good news for the cotton towel industry.
Beneath a cloudless sky on a recent Sunday afternoon, John Oswald made a public profession of his Christian faith as he stood in the waters of Lake Michigan.

Oswald, 43, of Libertyville, is a member of Christ Church Lake Forest and was baptized by full immersion along with about 40 others at a nearby beach.

Oswald, who was first baptized as a child in a Catholic church, said he wanted to publicly declare his faith in Christ and take the next step in coming closer to God.

"Although I was baptized as a child, this does reflect more of a decision made by me as an adult to say I am willing," he said. "I want to be baptized as Christ was when he was an adult and be washed of my sins."

Leaders at Chicago-area churches say hundreds of people each year receive public, full-immersion baptism. The numbers, some say, are on the increase, fueled by a desire to publicly proclaim the faith and enter into a new life with Christ.

Harvest Bible Chapel, which has five locations throughout the Chicago suburbs, has witnessed the public, full-immersion baptisms of nearly 1,000 adolescents and adults in the last five years, officials said.

[snip]

The Rev. James MacDonald, senior pastor, describes baptism as a public profession of faith in Jesus Christ.

A full-immersion baptism done by choice as an adolescent or adult is vastly different, he said, from infant baptisms performed in other churches.

An infant baptism does not carry the same spiritual meaning as a full-immersion baptism experienced by an adult because the infant cannot make a the decision to follow Christ, he said.

"A person has to have a personal faith commitment to Jesus first [before baptism]," he said. "Parents or a church can't do that for you. You have to make the decision for yourself to believe in Jesus Christ for the forgiveness of your sins and the gift of eternal life."

But the Methodist, Lutheran and Catholic churches believe in infant baptism, saying that it is steeped in both biblical and church tradition.

Monsignor Richard Zborowski of St. Theresa Catholic Church in Palatine said he believes the "same grace is given" to infants as adults in baptism.

And when those children are older, they receive such sacraments as Confirmation and Holy Communion, where they reaffirm their baptismal beliefs, he said.
Among other things, it's sad that Mr. Oswald, for whatever reason, drifted away from the Catholic Church. And it's unfortunate that he doesn't realize a fundamental truth of the sacrament: that you can't be baptized twice.