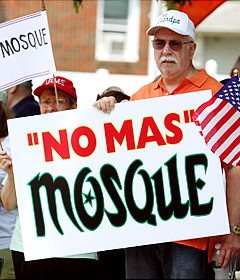 This news broke Thursday afternoon:
The board of trustees of a Staten Island Catholic Church have rejected the controversial sale of a church building to a Muslim group looking to open a mosque.

The collapse of the deal – which would have transferred the vacant convent of St. Margaret Mary Church to the Muslim American Society for $750,000 – came amid a national controversy over efforts to construct a mosque near Ground Zero.

The sale was almost a done deal, until word that the Rev. Keith Fennessy had quietly signed off on it became public, angering community members.

Fennessy later reversed course and said he opposed the sale, which needed to be approved by parish trustees.

In a statement, the Muslim American Society said it was "disappointed" by the decision.

"The pressures of bigotry and Islamophobia triumphed over a good, long-standing relationship between the archdiocese and the Muslim community," said spokeswoman Lana Safah.
You can read more here.