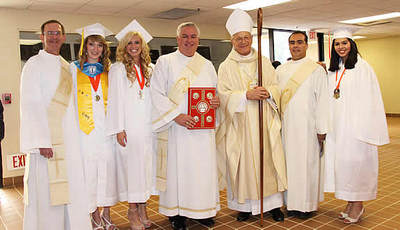 An interesting nugget from Los Angeles, where three girls graduating in one Catholic high school are all the daughters of deacons.
From The Tidings:
When Haley Guerra graduated from St. Joseph High School in Lakewood May 28, she was able to accomplish something her deacon father had always wished for but had never been able to accomplish: attend and graduate from a Catholic school.

Born in Cuba to a surgeon and his wife, Mario Guerra immigrated to the U.S. with his family at age six — each person allowed to bring just one small suitcase. Mario remembers his father working as a janitor at California Hospital until he had completed the necessary qualifications and certification to again serve as a doctor of medicine.

Active with his wife Ann at St. Raymond Church in Downey, Mario was ordained to the deaconate in 2002. All five of their children have attended St. Raymond School (the youngest in fifth grade), with two sons graduated from St. John Bosco High School, Bellflower, and two daughters from St. Joseph.

This year, Haley Guerra was one of three St. Joseph seniors who are daughters of deacon couples. The others are Jennifer Boucher, daughter of Deacon Richard and Darlene Boucher (from St. Cornelius, Long Beach) and Melanie Pesqueira, daughter of Deacon Paul and Michelle Pesqueira (from St. Marianna de Paredes, Pico Rivera).
There's more at the link.