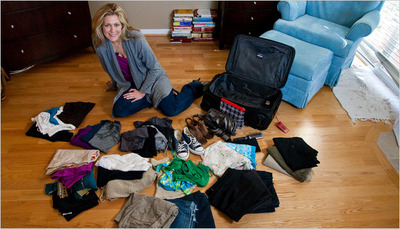 Easy. Just ask the people who fly every day for a living.
The New York Times did, and got some great tips:
To make room for these new travel necessities, many flight attendants roll their clothes rather than fold them to save space. Nerea Gomez-Cambronero, an attendant with Air Europa Líneas Aéreas in Majorca, Spain, has taught friends and relatives to roll-pack clothes. "The rolling-your-clothes tip is the basis of my entire company," said Don Chernoff, an engineer and frequent traveler, whose www.skyroll.com offers a line of luggage that encourages rolling rather than folding."It's a more efficient use of the space."

Weather and terrain create the biggest packing challenges. Coats, hats and umbrellas are cumbersome. Jay Abramson, a captain with Continental Airlines, avoids bringing heavy garments even in winter. "A thermal T-shirt and long underwear will allow you to wear a sweater and a fleece or lined windbreaker down to the mid-20 degrees," he said. If Sara Keagle, a flight attendant, can't get by with the coat her airline issued, she'll pack several lighter-weight sweaters and layer them.

Fred Arenas, a corporate pilot, travels with just one pair of shoes, the ones on his feet in the cockpit. If you need more, follow the advice of Ms. Poole, the Los Angeles flight attendant. Select shoes, then coordinate outfits around them. Three pairs should be the maximum, she said: "Shoes take up so much space." Mr. Johnson, an avid outdoorsman, wears his hiking boots onto the plane rather than pack them.

Pilots are often teased about repurposing the trousers from their uniforms. But minus the epaulet-embellished blazer, a pilot's or flight attendant's uniform pants in a basic solid color are easy to pair with a shirt or sweater. Mr. Laurie's airline-issued flight attendant uniform is all black. By planning to wear part of his uniform in off-hours, he opens space in his bag for something else.
Check out the rest at the link, and don't miss the slide show that demonstrates how it's done.
I know: it has nothing to do with the Catholic Church. But you never know when the pope might call and invite you over for the weekend…