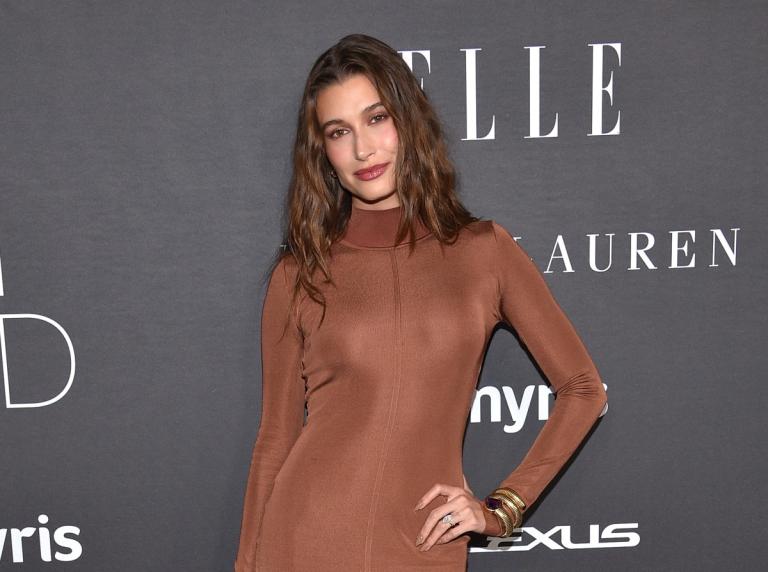 Hailey Bieber recently reflected on the mini-stroke she suffered last year. The model posted a video on her Instagram story she made in April 2022, where she talked about when she experienced a transient ischemic attack, often called a mini-stroke, in March. The incident led to her patent foramen ovale diagnosis, described by the Mayo Clinic as when "a hole in the heart didn't close the way it should after birth."
The overlay of her story read, "Can't believe it's been 1 year since I suffered a mini-stroke that led to my PFO diagnosis. Given that it's the 1-year mark from such a life-changing event, I wanted to share all the information I've learned about PFO and share resources to donate." In the video explaining her health condition, Bieber said doctors told her she had a minor blood clot that traveled to her heart, through the hole in her heart, and eventually to her brain.
She said she underwent a procedure to address the PFO, which went "very smoothly." Earlier this year, Bieber said the health scare caused her "a lot of anxiety." During an appearance on the "Run-Through with Vogue" podcast, Bieber said, "I struggled with a little PTSD of just, like, the fear of maybe it was going to happen again."
The model initially shared that she suffered a blood clot on Instagram days after it happened. In a YouTube video titled "Telling My Story," Bieber recalled the events that led up to her hospitalization. She said she and her husband, Justin Bieber, were out having breakfast when she "all of a sudden I felt this really weird sensation that kind of like traveled down my arm from my shoulder all the way down to my fingertips."
She said it made her "fingertips feel really numb and weird." When her husband noticed something wrong and asked if she felt okay, she said the right side of her face began to droop, and she suddenly couldn't speak. "Immediately, I thought I was having a stroke, like a full-blown stroke," the 25-year-old said.
Justin Bieber asked someone to call 911, and a medic came over and began tending to the stricken model. It was "definitely the scariest moment of my life," she said, adding that she feared she would have permanent issues.
Bieber said doctors had three theories on why she developed the clot in the first place. "I had just recently started birth control pills, which I should've never been on because I am someone who suffers from migraines anyway, and I just did not talk to my doctor about this," Bieber said. "So, ladies, if you suffer from bad migraines and you plan on being on birth control pills, make sure you tell your doctor. Because having a stroke is a potential side effect from birth control pills."
The second theory was a recent bout with COVID; the third was Bieber's long flight to Paris, where she flew there and back quickly. Bieber said her doctors told her these three incidents created the perfect storm for clot formation. Singer Justin Bieber addressed his wife's health issues at a concert shortly after her mini-stroke, telling the crowd that Hailey was "strong."
"It's been scary, it's been really scary," he said. "But I know for a fact that God has her in the palm of His hands."