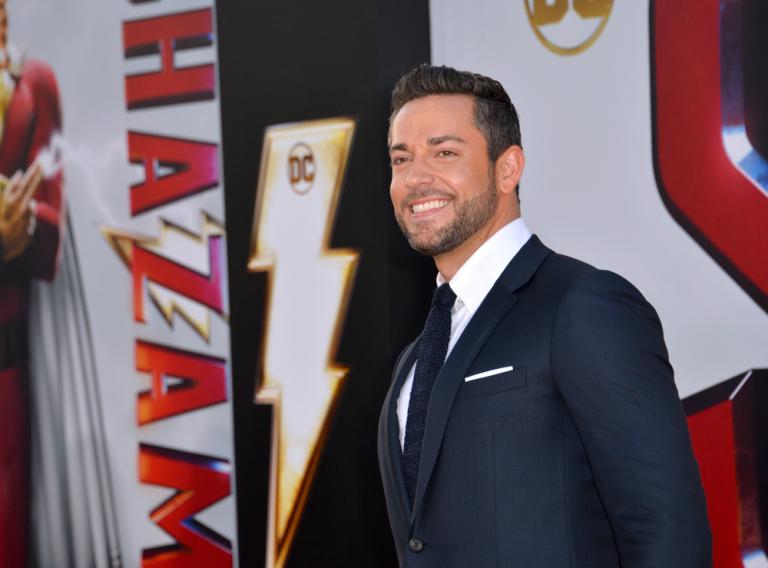 Zachary Levi is staying by his father Darrell Pugh's side amid his bout with thyroid cancer but keeping in touch with his fans via social media.
The "Shazam! Fury of the Gods" star responded with a very sobering response to a fan's playful tweet about where he is. "Sittin in my dad's hospital room with him," he wrote. "He's not doin so hot right now."
He detailed how Pugh's cancer had progressed from his thyroid and is now "slowly overtaking his trachea." He said that while doctors may have "a trick or two" to give him some time, "Papa D is not long for this world."
That same fan followed up and asked him what he needed right now. Levi responded, indicating that he had come to terms with his father's apparent terminal prognosis. "I'm doing just fine," he wrote, thanking the fan. "Death does not sadden or frighten me. It's actually an incredibly powerful part of life. One that we'll all reach one day." He shared that he believes that when we die, we "get to go back to God, the source, and be surrounded by the highest vibration of love."
Sittin in my dad's hospital room with him. He's not doin so hot right now. The thyroid cancer just won't quit, and is slowly overtaking his trachea. Doctor's may have a trick or two still up their sleeves to offer him a bit more time, but Papa D is not long for this world. ? https://t.co/AZcPQdC3he

— Zachary Levi (@ZacharyLevi) January 16, 2023
While he expressed that he's come to a sort of peace with his father passing, he did follow up with a call for prayers in an additional tweet. His prayers were not to change his father's path but to help prepare him for it. "Pray that he be as comfy and at peace, as a man could get," he asked his followers. "And that he heads home with no fear or regrets, knowing how loved he is."
Levi has subsequently been active on his social media, sharing various posts and memes and continuing to interact with his fans. He has not offered any additional updates about his father. Back in November, Levi had shared with his followers on Instagram a video of him and his father in the hospital ahead of a "big surgery." Afterward, he shared that the surgery had successfully removed 90 percent of Pugh's cancer.
"HE LIVESSS!!! The surgery went very well, and the surgeons were able to remove 90% of the cancer from his body! PuuuhRAISE!!! ?" Levi wrote in his caption at the time. "Thank you all for your continued and humbling show of love, and light, and thoughts, and prayers, and just overall intentional, positive energy that you have sent his, and our, way," the actor added in that Instagram caption. "It has meant more than any of these words can really say."
At the time, Levi wrote that "the hope now" for his father after the November 2022 surgery "is that between these new drugs targeting the remaining cancer in his body, and all the scrumptious, natural stuff we're gonna be pumping him with, we can get him back to living his life, pimp walkin his way down the promenade in Ventura, puttin out the Papa-D vibezzz."
Many celebrities supported the actor in response to his heartbreaking news, with Sherri Shepherd writing, "sending love and light." Jane Lynch also chimed in, writing, "Love and comfort and peace to you and Dad."