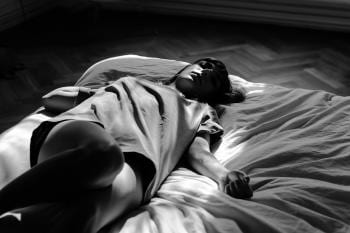 Are you having scary nightmares or trouble staying asleep? The coronavirus pandemic might be the reason to blame, and you aren't alone in your struggles. Hundreds of thousands of people across the nation are noticing changes in their sleeping patterns.
Online searches about sleep deprivation and weird dreams during quarantine were up more than 200% in the last few weeks. Many of us are having a hard time falling asleep, waking up in the middle of the night, and dreaming about really strange stuff.
Stress and anxiety are the biggest causes of sleep disorders, and it's no surprise to anyone that the coronavirus pandemic has increased both for the average American. The increase in stress can even lead to having more negative dreams such as seeing dead bodies or others killed. These dreams can feel disturbingly real at times. We are also more likely to remember the dreams we have because the anxiety of the day wakes us up in the middle of the night.
A recent survey conducted by Deirdre Leigh Barrett, an assistant professor of psychology at Harvard Medical School, confirmed that the incidence of vivid dreams has increased as the virus has spread around the world. This would not be unprecedented though. Previous studies have shown that events like 9/11 changed the way people dreamed for a time, making their dreams more intense and memorable in the days after the attacks.
Doctors say a good night's sleep is extremely important these days because a lack of sleep can be detrimental to your body's immune system. Dr. Victoria Sharma with Sharp Grossmont Hospital offers some tips: Keep a regular schedule and try to stay calm around bedtime. In addition, getting exercise during the day can help you release some pent up energy.
"No watching TV in bed, no playing on your phone in bed, stop caffeine six hours prior to bedtime, stop alcohol close to bedtime and just try to relax," she said. "This too will pass at some point."