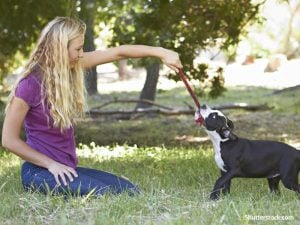 Most pet owners already know that spending time with their cats and dogs makes them feel better, but now there is scientific evidence to back that claim up.
Researchers from Washington State University found physiological evidence that spending a mere 10 minutes petting a cat or dog will lower ones stress levels.
"Just 10 minutes can have a significant impact," explains author Patricia Pendry in a release. "Students in our study that interacted with cats and dogs had a significant reduction in cortisol, a major stress hormone."
Many colleges around the country have programs in place around the "pet your stress away" idea, where they allow stressed out students to reserve time to play with animals to help them relax.
In the study, researchers divided 249 college students into four different groups. One group was able to play with dogs and cats for 10 minutes, a second group was able to watch others play with the animals, and a third group watched a slideshow of some animals. The last group wasn't able to pet or look at animals at all.
Salivary cortisol samples were taken from each student, and those that directly interacted with the animals had statistically significant lower levels of cortisol.
"We already knew that students enjoy interacting with animals, and that it helps them experience more positive emotions," Pendry says. "What we wanted to learn was whether this exposure would help students reduce their stress in a less subjective way. And it did, which is exciting because the reduction of stress hormones may, over time, have significant benefits for physical and mental health."
The study was published in the scientific journal AERA Open. Next, the research team is going to look at the impact of a four-week animal-assisted stress relief program.