Today's Meet a Dad profile is James Sutherland, a photographer and video editor in the UK.
(The goal of Meet a Dad: Profile a dad and let him share his fatherly wisdom with us. Some of these dads will be well-known in certain circles; others will be largely unknown outside of their immediate circles. Doesn't matter, because I think just about every father has as much — or more — to share than I do.)
————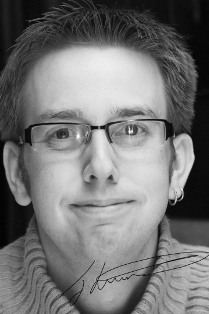 Tell us who you are and what you do…
My name is James Sutherland. I become disabled due to severe health conditions at the very young age of 22. I was born with Hirschsprung's disease, which lead me to have over 37 operations until the young age of 18. Nerves were damaged in the process and these continue to cause me severe pain. I am unable to walk well and use a cane like Dr. House. I am on more morphine than someone dying from cancer. They can't cure me without cutting the nerves in my stomach — which would lead to the loss of my legs.
At the age of 22, I had a massive collapse around the same time my son, Jack, was born. I was forced into disability, which limited me seeing him from the start. I decided I would not be the kind of disable person who sat on the couch and let other people pay his way. I would work for my money and my child and try to provide a better life for him. I now work for myself as a photographer/web designer and video editor. I do many jobs to keep afloat as I want my child to see his father as a trying man and not someone who just sits back. I am now 25 and I want to make my son's life a good one and I hope he will grow up knowing his father did everything he could to make that happen.
Anyway, Jack is three years old. He lives with his mother in Blackburn, UK, and I live in Essex — 250 miles away. He has a brother and sister who do not see their fathers but I treat them all the same as if they were all my own.
What is one thing you do that qualifies you for being an above-average dad?
I feel the thing that qualifies me as an above-average father is that I am fighting a war on two or three fronts and still do everything to be there as much as I can for my son. I have to battle with my illness, followed by trying to work as much as I can to provide for him, and then trying to be a normal father. I do not want him to see me as his disabled father but as a good father who pushes on to provide and be there for him.
What is one thing you do that results in eye rolls and/or exasperation from your kids?
Being a photographer and always wanting photos of him. His little blue eyes roll knowing I want to take another photo of him.
What is the most challenging aspect of fatherhood for you?
The most challenging aspects of fatherhood for me are not the normal ones. I have always been able to give up things for my child or do anything he wishes. The things I have found hard are the things most fathers take for granted — like playing football (soccer) with my son or even just being able to drive the 250 miles to be there with him. I can drive but the amount of pain it causes me is unimaginable to most people. But every minute of pain is worth the time I spend with Jack.
What is your absolute favorite thing to do with your kid?
My absolute favourite thing to do with my son is to just hold him in my arms. I am very lucky to have a son who is very cuddly and wants to feel the love through my arms. Because I can't do too many "normal" things with him, holding him is the best thing I can do with him and it always brings a smile to my face.
What's the best advice you ever received about fatherhood?
Try to involve your child in everything. I know we must always have our own hobbies and interests in life, but involve your kids in them and they will always remember. My father got me involved in filmmaking with him as a child and would let me play with his expensive video camera. Other fathers would not let their child touch such an expensive object, but I will always remember him for that and won't forget the good times we had together. I now do the same with my son and my very expensive camera. At the end of the day, as long as he never breaks it, I will always be happy.
If another father asked you for one piece of advice about being a dad, what would you tell him?
Be there for your child at all times. We all have excuses and really can't be bothered to do things sometimes. But if you end up like me — miles away from your child and disabled — you would really miss all those moments, no matter how frustrating or mundane they may seem. There is not a moment that passes that I don't wish I was with him.
Please indicate any blog or social media links if readers would like to connect with you online.
My photography site is JamesSutherlandPhotography.co.uk or Facebook.
————
Previous dads: