This is stunning. Photographer James Mollison has a photo-essay book called Where Children Sleep, built around a powerful but very, very simple concept. It introduces us to children around the world by showing us the diversity of their bedrooms — what these private places look like, and the picture these spaces paint of their worlds.
The project was photographed with the support of Save the Children.
I found myself thinking about my bedroom: how significant it was during my childhood, and how it reflected what I had and who I was. It occurred to me that a way to address some of the complex situations and social issues affecting children would be to look at the bedrooms of children in all kinds of different circumstances. From the start, I didn't want it just to be about 'needy children' in the developing world, but rather something more inclusive, about children from all types of situations.
As this New York Times blog post points out, the book draws attention to class and poverty not with sad-eyed, disease-stricken kids, but with the disparity in their sleeping quarters.
To use a ridiculously obvious example, here's Jasmine, a 4 year-old beauty pageant participant who lives in the Kentucky countryside: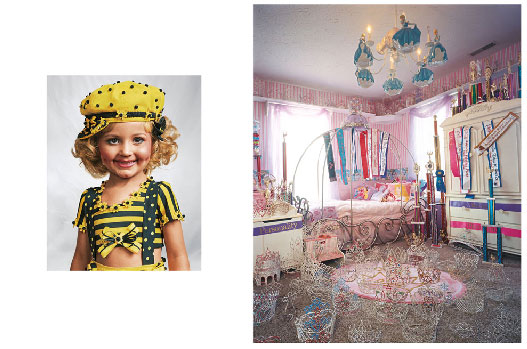 And here's Roathy, 8, who lives with his family above a dump in Cambodia: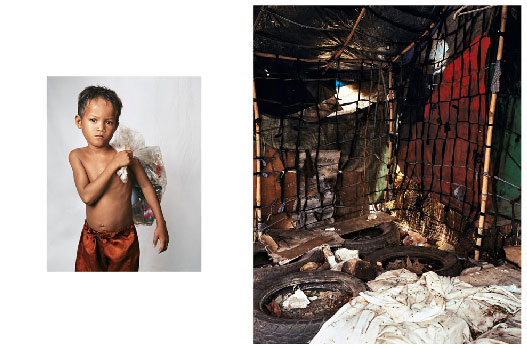 (photos by James Mollison)
The spreads above above are extreme, but should give you a taste of what seems to be a fascinating, important book. Amazon shows that the book is currently out-of-stock, but there's an excellent slideshow of 19 of the photo spreads at the New York Times.
It's so worth viewing these in full-screen mode with your kids. These photos are educational, heart-breaking, eye-opening, and something I hope they'll remember next time they complain about what they don't have.