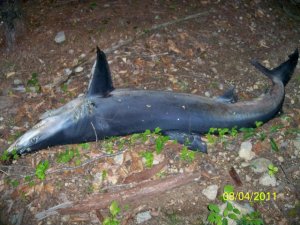 The story contest has ended. Thanks to all of you who participated. I struggled to come up with a winner for this one.
The explanatory story by Tim S. was longish, but felt right. It was creative, fantastical, and offered an excellent fable-like template for such a story. Ending it with "And so it was that a blue shark's body was found…" was perfect. Here's the full submission from Tim:
The sharks say that God had declared sometime in the past (it could have been earlier that day or in the last couple million years–sharks really aren't all that good at telling time) that though they possessed the power to walk, they must never be seen by humans, as it would disrupt the humans own belief in their superiority over the other creatures and would result in the offending shark's death.

Jake, our stunning hero who was blue in all the right places, was walking through the woods one day and heard some humans nearby.

He began to run back towards his watery home, but tripped and fell over a log he did not see because his eyes are inconveniently placed on the sides of his head.

Hitting his head on the hard ground, the cartilage that formed his skull cracked and he died, thus reaping the just reward for his being seen walking by a human.

God, seeing this transpire, erased the memories of the humans that saw the shark walk, but didn't have time to move the body as there were some people elsewhere declaring that He should grant them money for a new house and He had to figure out how to get the stock market to cooperate so that He could earn enough return to be able to give it to the fine people who wanted a bigger house (which wouldn't be all that easy considering how much humans had messed up the stock market).

And so it was that a blue shark's body was found in the woods miles from any water.
But I was also drawn to this story by Matt. It, too, met the six-sentence criteria but was much, much shorter. And intensely ominous:
We live beneath you. In a labyrinth of dark water below your feet, we swim. And we wait. We sent The First as a sign of what is to come. You will not like what is coming.
I can't imagine creeping my kids out with that kind of story-telling, but it's pretty much awesome. If Stephen King wrote a new book called The Forest Shark, set in the woods of New Hampshire, Matt's copy would totally work for the back cover.
So I'm awarding the contest win to both Tim and Matt in a tie. Full disclosure: I know both these guys, and think they may own most of my books already. But contact me if there's a certain one you want from those listed in the sidebar at right. Happy to send it your way.